nut - review
The Shed at the National Theatre
Published:

Tuesday, November 12, 2013 11:32 AM

| Review by:

Gillian Fisher

|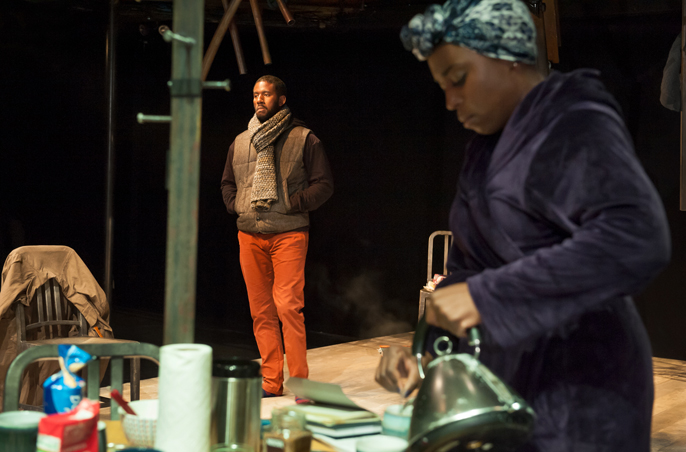 debbie tucker green's new play is a judicious illustration of living with mental health problems in 2013. The play's domestic setting and flowing urban prose make the scenes so familiar yet so poignant. Elayne's position; concealed behind a broken doorbell with daytime TV blaring is far from unique, but is one we prefer to ignore. The skilled cast give a sincere performance as the events unfold and we come to appreciate Elayne's reality and her desire for solitude.
tucker-green's work often deals with highly charged issues and nut is no exception. With an individual given to self-harm and obsession at the centre of the play, mental illness stares the audience squarely in the face. However, this confrontation is executed with the subtlety and objectivity so characteristic of the playwright. Elayne played by Nadine Marshall is intelligent and defensive, often sat complacently with her arms wrapped around herself. The sense of loneliness Marshall presents is overwhelming. Her attempts to establish some order by compiling lists and writing things down is snorted at by her sister. Sharlene Whyte plays the divorcee as derisive but ultimately concerned for her sibling. The dialogue between the two women reveals so much about family dynamics and the pervasive effects of psychological discord. Has an overbearing sister caused Elayne to emotionally detach or has Elayne's apathy resulted in Whyte's character taking charge?
The set designed by Lisa Marie Hall highlights the melancholy tones of the play magnificently. The slate grey space with industrial hanging structures combines the functional with the surreal. This duality is inherent to the production, most obviously in the script. The accelerated dialogues are expressed in specific London phraseology but the use of repetition, patterning and hyperbolic detail create inherent verse. Direction is provided by the playwright herself and she keeps the action dynamic but closely measured. The exchange between Whyte's character and her ex-husband played by Gershwyn Eustache Jr. exemplifies this. The obvious attraction and unresolved issues remain unspoken as the discussion focuses upon custody matters with their daughter. Eustache Jr.'s character is full of cocksure stubbornness that provokes his ex-wife until the conversation becomes a slanging match. The exchange is powerful in its intensity and seemingly off the cuff allusions prove so revealing.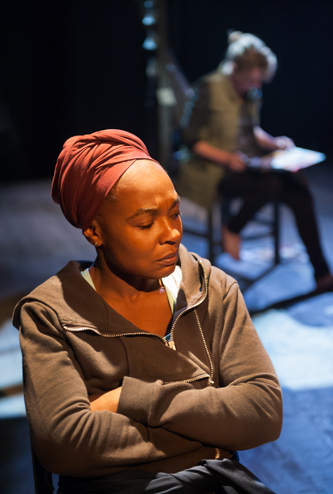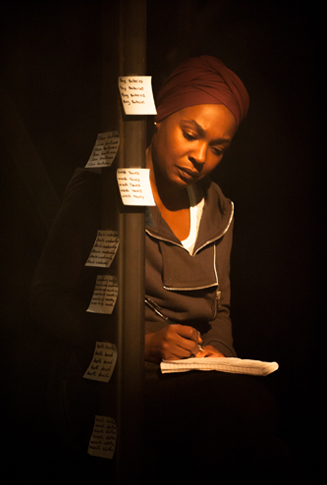 Despite her attempts at hermitage Elayne receives frequent visitors, sticking their noses in her business and showing obvious disapproval. Conversations are cyclical with the etiquette of door knocking being discussed at length to no avail. Aimee played by Sophie Stanton is brash and domineering, commending Elayne on her meticulous nature. Devon played by Anthony Welsh is equally as self-important but demonstrates more of a sarcastic wit. Trey is mostly quiet, observing the action and singing to himself with unaffected innocence. The back and forth exchanges and quippy comebacks are at times extremely funny, their significance only becoming obvious in the final scene.
The far reaching effects of mental disorders is expressed superlatively in nut. Questions of origin, inherited traits and learned behaviours are all raised in this demiurgic drama. The cast perform with conviction in a play which has so many layers, some overt and some hidden. Each cup of tea brewed and cigarette lit becomes symbolic in this play which leaves you pondering long after the final curtain.
Info: nut is at The Shed, National Theatre until December 5, 2013. Book tickets
Related links
Sharlene Whyte, - interview
nut – Afridiziak e-newsletter 1
nut – Afridiziak e-newsletter 2