Phone Swap directed by Kunle Afolayan, OHTV screening at the BFI
Published:

Sunday, November 4, 2012 10:28 PM

| Review by:

Shari Bollers

|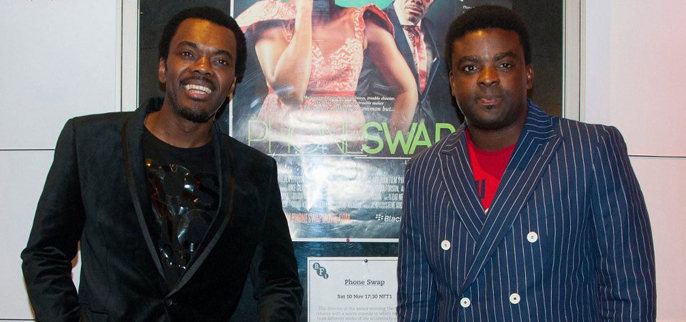 I headed to the BFI Southbank on Saturday to attend the screening of a new film by award-winning Nigerian Director Kunle Afolayan. There was definitely something in the air as I milled through the vast volumes of people in the lobby making their way to the cinema auditorium. We all had one thing in common; we were on our way to see the film 'Phone Swap'.

Once seated in the packed auditorium it felt like a family gathering. It was a very relaxed environment, so much so the guy next to me took off his shoes.

I know in the past when I have thought about Nigerian films my mind has wondered to 'Nollywood', this film is nothing like it. There is no feeling of low budget, just a feeling of exceptional acting and directing. It showcases Nigerian life, not only in the city but in the villages too. A film that takes your imagination away from the archetypical Nollywood film, this is real cinematic filming and viewing.

Phone Swap, tells the tale of two complete strangers who happen to get caught up in each other's lives at a very crucial part in it. I was captivated by the warm soul of Mary (Nse Ikpe-Etim), a struggling dressmaker who is trying to get home to her village to mediate over her sister's martial life. She accidently bumps into stern businessman Akin (Wale Ojo), who is on his way to hand over important documents to the chairman of his company. They end up swapping phones and taking flights to each other's destinations, Akin ends up in Owerri and Mary ends up in Abuja. With no choice but to stay put in each other's respective family homes, they will have to help each other out to resolve the issues.

With hilarious viewing we get to see Akin struggle with the village lifestyle. From helping out in the fields, to eating with his fingers and communal sleeping. Meanwhile Mary gets to experience a life that she has never before been accustomed to and she starts to bond with Akins's mother, more than he as done over the years.

All the characters were created to enable the audience to warm to them and to laugh with and at them. With its switching of dual languages of native (with subtitles) and English, it was easy to follow. It did not take away from the film rather it enhanced it. It was a film that included everyone and warmed us with the humour. Whether Nigerian or not you will find this film funny.
Phone Swap directed by Kunle Afolayan
Phone Swap courtesy of Vimeo