The Westbridge, Royal Court's Theatre Local, The Bussey Building
Published:

Thursday, November 9, 2011 12:24

| Review by:

Sophia A Jackson

|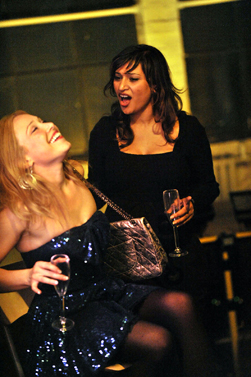 The seating alone is a give-away that this isn't going to be your bog standard theatre production. You know when you go to see a play and your stuck in a tiny seat for a couple of hours and it feels like your legs are about to seize up? Well there's no chance of that with The Westbridge. Seats are a bit more spaced out but they are all faced in different directions so that you can move around as the play does in this unconventional theatre space.

Just as you're getting settled, turning off your mobile phone and taking in the unusual surroundings of the Royal Court's Theatre Local at the Bussey Building in Peckham it's suddenly pitch black and we, the audience are in the thick of the action. There's commotion and scuffles happening all around and it feels slightly uncomfortable. Welcome to Rachel De-lahay's The Westbridge.

Set near a council estate called The Westbridge in SW11, the play focuses on the interwoven relationships between a black woman and her son, a mixed Asian family, a mixed raced man and his mixed Asian girlfriend and one white woman, neighbours in a south London microcosm.

Rumour has it that an Asian woman has been gang raped by a group of young black males on The Westbridge estate. Audrey, played by the wonderful Jo Martin is mother to one of the accused, Andre played with charisma and cheeky charm by Ryan Calais Cameron. Immediately she suspects her son is guilty and with a heavy heart decides to throw him out of the family home.

Old Westbridge resident, Marcus, played with aplomb by Fraser Ayres, is boyfriend of Soriya, an instantly likeable character played by Chetna Panya. Marcus has just moved in with his girlfriend and her bestie, Georgia a true girlie girl played by Daisy Lewis. The girlie goings-on and banter between Georgia and Soriya provide much of the plays humour and entertainment factor and their interaction is a joy to watch.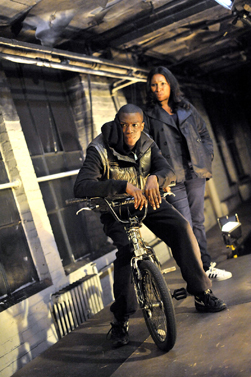 Incidents from the first meeting between Marcus and Soriya's somewhat ignorant father, the goings on within a community adjusting to race relations and a volatile situation of a young girl being raped is ample fodder to keep things ticking along to the unexpected climax.

Under Clint Dyer's direction, the play is intense and with no interval, this fast-paced production which lasts an hour and 50 minutes has you gripped by the neck from the get go. The multiple storylines are engaging - tackling sensitive and prickly issues of race and prejudice and cultural differences with ease as the audience squirms contemplating how we would handle our own opinions and judgements on the sensitive subject matters.

Congratulations to Rachel De-lahay, a joint winner of the 2010 Alfred Fagon award for playwrights of African-Caribbean descent. The Westbridge is her first play and it is an intelligent, funny, thought-provoking and relevant piece of theatre which you simply must-see.

The Westbridge is at Theatre Local until 19 November [Bussey Building, 133 Rye Lane, SE15 4ST] and then transfers to the Royal Court, Jerwood Theatre Upstairs from 25 November to 23 December | www.royalcourttheatre.com.
---
Related links
Afridiziak Theatre News review of Truth and Reconciliation
Afridiziak Theatre News interview with Don Gilet, Truth and Reconciliation
Afridiziak Gifts and Occasions Christmas shopping boutique at the Bussey Building – 3 December 2011