The Playground by Intermission Theatre
Published:

Tuesday, November 15, 2011 10:23

| Review by:

Gillian Fisher

|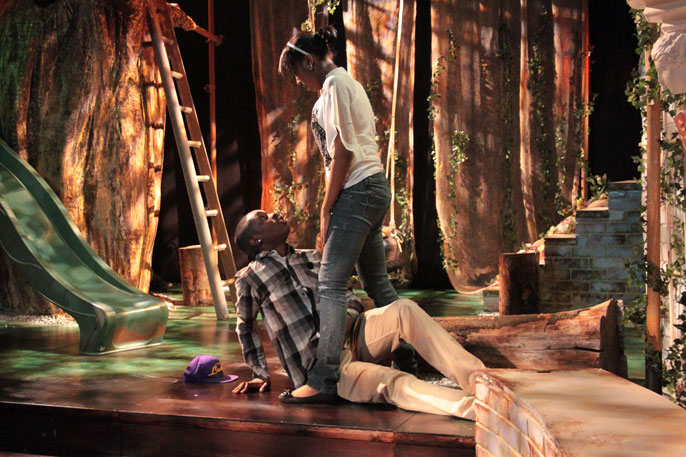 The works of the notorious Bard have seen many adaptations over the last half a millennia, and as the master of evolving language and expert on the unchanging nature of social interaction and the human condition, William Shakespeare will be grinning in his Avon grave at this incredible reworking of A Midsummer Night's Dream. Set in London with the Athenians transfigured into a group of savvy 16 year olds, the magical events of the evening appear inspired by an enchanted flower, rolled closely in a king size rizla.

Upon puffing Shakespeare flows forth from the mouths of the teens and dream like events follow. The ivy strewn playground set designed by Jaemi Bermudez is the perfect setting for the interactions between the youth of today; between swing and slide stands a mystical looking oak tree ideal for fairy folk to observe their meddling with the mortals amidst their billowing smoke filled hollow.

The actors are at hand, and by their show, you shall know all that you are like to know.

The plot is stirred into action when Titania, played by the velvet voiced Morenike Onajobi, wantonly scrolls through Oberon's phone and discovers a text she is displeased with. The King of the fairies is played by Darren Raymond who also happens to be the writer and director of Playground, seeks retribution and a tricksy Puck is sent to wreak havoc amongst the mortals. The young Athenians, having just finished their GCSEs are concerning themselves with securing dates for tomorrow night's showcase and waging bets on who will succeed in making the beast with two backs. Remaining unaltered is the tale of Lysander and Hermia's forbidden love and Helena's yearning for Demetrius (in this version made difficult by his fellow schoolmates informing him she looks like a goblin on crack) as well as playful Puck, weaving his magic spell upon the wrong mortal with dire consequences. However, all events are related through modern schoolyard slang and mannerisms and infused with references to pop culture and current issues of young people, bringing Shakespeare slap bang into the twenty first century.

This Intermission Youth Theatre production is one of the most creative, funny and exuberant pieces of theatre I have seen in a long time. Every actor is committed to their role and gives an excellent performance. The interplay between the teenage Athenian boys is sharply genuine; Lysander played by Cory Hipployte is smooth talking and cheeky, while Dandave Roach's Demetrius is a more sensitive young man who still has considerable swagger, backed up by an aloof and slightly domineering Egeus played by Ayo Anajobi. The ring leader of the group is Theseus, wise cracking, and sarcastic played by Eddie Thompson.

The female actors certainly give their all too, we watch a kind hearted and confident Hermia played by Sade Philpotts who is not adverse to pulling the hair of Helena when she feels this upbeat and determined outcast played by Tashana Wright is making moves on her man. The craftsmen play an essential role in the proceedings, reworked into a school drama group comprising of synchronised goth girls Snug and Snout growling as they spit their lyrics, easy going Robin, domineering Flute and sycophantic Quince. The role of Bottom has been transformed into Batty, a young man disapproved of by his father and desperate to be liked, played by with an unassuming shyness by Tre La Croix Medley.

It is impossible to overstate the talents of this production's Puck. Joshua Okusnya struts around the stage, gesticulating and chuckling with considerable cheek. This character is also equipped with a flirtatiousness that transcends the boundaries of the stage. Absolutely stunning.

Intermission Youth Theatre is an organisation committed to inspiring young people and providing opportunities for them to pursue their dreams, and this production demonstrates lucidly the talent and passion inherent in today's youth. Transforming classical theatre into modern drama infused with contemporary issues of family troubles, bullying and drug abuse the actors have devised a play which speaks to their own age group yet is performed with a level of skill that it appeals to the general theatre going public. A truly fantastic play.
---
Related links
The Playground is on until November 26, 2011
Afridiziak Theatre News interview with Darren Raymond
Afridiziak Theatre News review of 10-10-10 by Intermission Theatre