Some like it Hip Hop, Peacock Theatre
Published:

Saturday, November 5, 2011 12:05

| Review by:

Andrew Boreland

|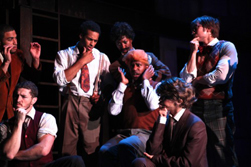 Zoo Nation founded by Kate Prince brought the hit production 'Into the hoods' and has come together to bring their interpretation of the 1959 comedy film 'Some like it Hot' [Jack Lemmon, Marilyn Monroe and Tony Curtis] to the stage.

The narrator played by Tachia Newall tells the story of a Governor whose grief from his wife passing has caused him to bring dark days to the city and the people in it; books are banned, men work in the factory while the women are put to domestic duties, any person not fit for the job lives outside the city walls and left homeless (that's harsh!).

Two rebellious women played by Lizzi Gough and Teneisha Bonner whom after being kicked out of the factory decide to dress themselves as men alongside a bookworm played by Tommie Franzen who joins them in their rebellion, attempt to get work and back into the factory. Franzen is credited for the wonderful choreography scenes, while the narrative story is told in an impressive variety of hip hop moves, robotic dance routines, down to the slow mournful moves of the citizens exiled, to the climax at the end where you have the dance battle with the rebels turning on the governor in an onslaught of headspins, body flips and street dance.

The lighting effects were great, highlighting the dance skills and choreography on some scenes as well as a variety of hip hop, r&b, soul beats and some terrific live singing gives the audience a great audio treat as the show goes on. The show ends with a wonderful array of freestyle dancing and singing that will get people out their seats, clapping and joining in on the fun.

Some Like it Hip Hop is surely destined for the same smash hit as Into the Hoods giving a great show full of humour, beats and songs alongside a classic story with a twist.
---
Related Links
Some Like it Hip Hop is at the Peacock Theatre until November 19