Shalom Baby, Theatre Royal Stratford East
Published:

Tuesday, November 1, 2011 10:04

| Review by:

Gillian Fisher

|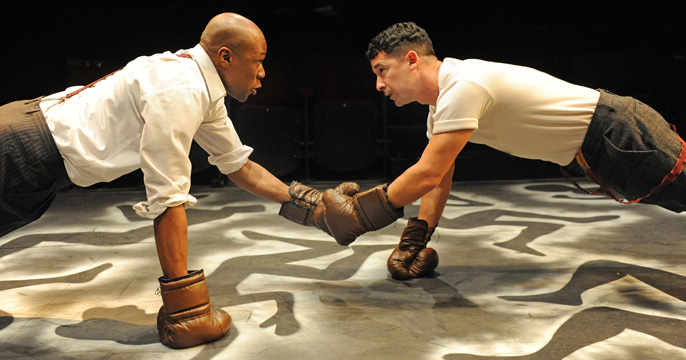 Two Jewish families brought together around the dinner table in times of crisis. The Weissmanns in 1930s Berlin, holding strong to their faith as the Nazi regime grows up around them and the Vandermolens of present day Brooklyn, launching an intervention against their son Harry's crack addiction. Within the overriding turmoil emerge further complications sure to set tongues wagging, when the Weismann's hire a black Shabbes Goy to assist on their Shabbat and a controversial love blossoms between him and young Natalie. Seven decades and an Atlantic ocean divide the two sets of people but has the world really become a more inclusive place to reside? With the Fuhrer dead what prejudices have taken precedence over anti Semitism in modern western society? And with hope on their side will the Weissmanns survive the holocaust?

Rikki Beadle-Blair's new play is an insightful exploration of prejudice in its all its forms and the unchanging nature of humankind's intolerance to that which is deemed 'Other'. Excellently cast, the seven actors are reincarnated between the two settings. Whilst their essential core remains unchanged we see the formative effect of their generation upon their behaviour, such as in the case of Roma outcast Ion, whose displacement in the 1930s transfigures to a desperate struggle for personal identity as adopted Nicky in present day Brooklyn. As the play delves deep into the fundamental issues of existence we are also presented with touching scenes of intimacy and family life; fabulously opposing the banter and lyric spitting culture of the present with scenes of World War II domesticity and back yard boxing matches.

Not only does this play encompass fascinating historical drama alongside modern theatricality, it also achieves a vastly ranging perspective; as Nazism, homophobia and institutional racism feature in the production each one is presented objectively and without targeting any one group as fundamentally evil, rather Beadle-Blair encourages us to consider the paths that have led to people's bigotry.

Past atrocities and present divisions, laugh out loud comedy mixed with tear jerking tragedy, love within war and hatred during peace. An excellent play, make a joyful noise unto Theatre Royal and go and see it.
---
Related links
Shalom Baby is at Theatre Royal Stratford East until November 19, 2011
Afridiziak Theatre News interview with Rikkie Beadle-Blair, Shalom Baby