Fanta Orange, Finborough Theatre
Published:

Sunday, November 27, 2011 9:10

| Review by:

Gillian Fisher

|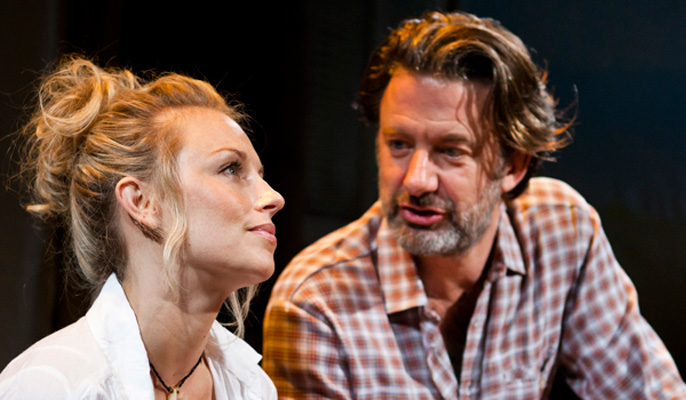 Against the backdrop of the mountain which provides, three people are locked in a strange relationship of desire, need and duty. Roger is tied to the land as third generation white farm owner, lust coupled with a flattered ego sees him become entangled with a young English geophagist Ronnie.

Enamoured with a romanticised vision of Africa, set to rescue the youth of the continent with money taken from her considerable trust find, Ronnie quickly settles into her African fantasy becoming pregnant by her new fiancée. But the house girl Regina is also pregnant by Roger, and being HIV positive she quietly harbours her terror of delivering a baby with the same condition. Different perspectives of one landscape, what it can provide, what it can take away, and the vast impact skin colour makes upon that decision.

Sally Woodcock's dark yet comic tale directed by Gareth Machin, is a powerful condensed view of race and cultural relations in Kenya and the West's relationship to it. The author's personal experience of growing up in this country greatly informs the writing, the three characters each representing a pivotal part of the situation in Africa.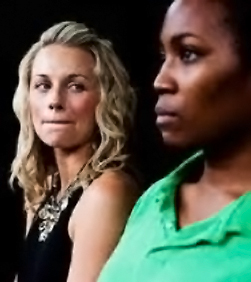 Regina played by Kehinde Fadipe represents the native peasant population, strong, resolute and pragmatic, her tribal background instructing her begrudging acceptance of this second wife figure, as well as her determination to protect and preserve her white employer. Jay Villiers as Roger is a mass of contradictions, whilst sly and pompous he is also kind hearted.

Babbling on, never giving a straight answer he is himself restrained by the established African system which has made his true feelings impossible to express. Ronnie is the patronising wide eyed ex pat with a silver necklace in the shape of Africa around her neck.

However much she denies being 'another clueless white woman, come to deliver The African from famine' she in fact conforms perfectly to this stereotype. Played with conceited snobbishness combined with earnest naivety by Jessica Ellerby, one can't help pitying this character; her sincere belief that she is delivering the very essence of the continent to undernourished orphans by providing fresh milk is laughable. Kids these days like their drinks fizzy and brightly coloured.

Razor sharp observational drama, so many ingrained preconceptions laid bare in short expository lines. Whilst a particular element of the plot does descend into the ridiculous a little farce can be forgiven considering the accomplished depth of the production. Skilled acting from the three players, but the stage undoubtedly belongs to Fadipe.

A bright, canny and effective play.
---
Info: Fanta Orange is at the Finborough Theatre until November 26, 2011