Death and the Maiden, Harold Pinter theatre
Published:

Tuesday, November 1, 2011 9:57

| Review by:

Sophia A Jackson

|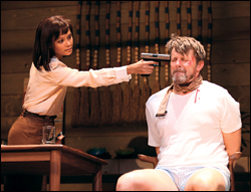 My heart was in my throat when I left Harold Pinter Theatre after being gripped by Chilean playwright Ariel Dorfman's classic 1990 play Death and the Maiden. The three-hander stars Thandie Newton making her West End debut as leading lady, Paulina Salas. Newton's co-stars are Tom Goodman-Hill, who plays the husband, Gerardo Escobar and Anthony Calf who plays the accused, Roberto Miranda.

Set within the confines of the couple's beach house; their kitchen area forms centre stage with a window forming a partition during scene changes or at poignant moments within the play. Sound effects are minimal with the sounds of rain and crashing waves to feed our ears.

Under an nameless dictatorship this thrilling and captivating drama tackles many themes and social issues including reconciliation, revenge, victimhood, the right to cast judgement on others for example but primarily the heinous repeated rape and torture of Paulina Salas which continues to haunt her many years after the attack. She remains trapped in the past and the abuse leaves her mentally scared as she relives the trauma over and over again. Her husband, a high profile human rights lawyer, is supportive, understanding, loving and patient but he too is trapped in his wife's living nightmare as the stains of the past infect their relationship and soil their marriage.

Coincidentally, on one fatal night, her husband brings home a guest, a guest that Paulina believes to be the doctor who raped her. This is where the play spirals into a harrowing darkness where the audience is taken on a rollercoaster ride of suspense as torture and torment go hand in hand.

Gripping, intense and fraught with drama, Death and the Maiden is the must-see West End show – you will not be disappointed.

The play runs for one hour and 40 minutes. There is no interval.
---
Related links
Death and the Maiden the play is at the Harold Pinter theatre until January 21, 2012