Kupenga Kwa Hamlet, Oval House Theatre
Published:

Monday, November 22, 2010 16:05

| Review by:

Shari Bollers

|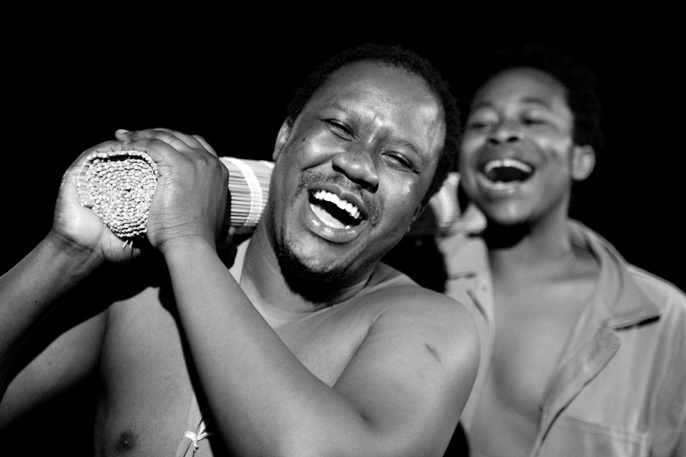 The Oval House Theatre was full of rapturous applauds and laughter throughout Kupenga Kwa Hamlet. The show transports Shakespeare's Hamlet to Africa with a few simple props that evoke your imagination. The performance is full of songs, dance and Shona (Zimbabwean language) which all adds richness to the text.

Both Tonderia Munyevu and Denton Chikura dressed in orange boiler suites take on all roles within the play and the characters are identified by simple hand gestures. Hamlet rests his hand palm up on his forehead as if wiping sweat from it, Ophelia has her hands on her hips and Gertrude's hand is continually on her cheek. These two men sing eloquently and I found the audience reciprocated well to it.

I knew the pretext of the story beforehand and I believe that helps with the interpretation when watching the performance. The show relies partly in knowing some basic information about the script, although it has an African subtext the dialogue still remains originally Shakespearean. With the Shona delicately woven throughout the performance you grasp understanding of what is being said. Sometimes just seeing the gestures with the Shona made you laugh and there were times I didn't know exactly what I was laughing at but I didn't mind.

The story draws to a close with the audience finding out each character has came to their demise. The audiences are fortunate to hear a unique eulogy told by either an old friend or colleague. In the case of Gertrude it's her classmate from computer studies.

A truly unique and remarkable show that leaves you thinking it had been intended to be performed this way. This is a beautiful fusion of Shakespeare and an African backdrop used to tell such an emotive story and told by two powerful actors. A great production by Two Gents Productions.
---
Related Links
Afridiziak Theatre News interview with Tonderia Munyevu and Denton Chikura