Blue/Orange, Arcola Theatre
Published:

Monday, November 1, 2010 14:00

| Review by:

Shari Bollers

|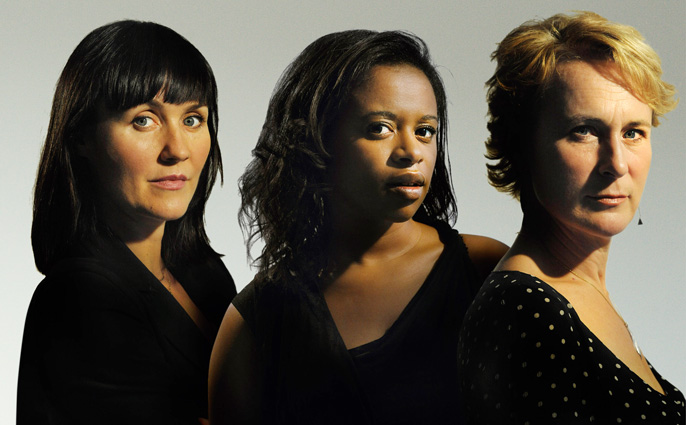 Tiata Fahodzi's all new female production of Joe Penhall's successful 2000 hit Blue/Orange is now on at the Arcola Theatre.

Blue orange tells the story of the final 24 hours of a young woman who has been sectioned. Juliet is on the brink of being released and has to deal with opposing consultations from her own doctor, Dr Flaherty and senior consultant, Dr Smith.

Juliet is excellently played by Ayesha Antoine who just wants to leave an institution that she feels she doesn't belong in. You can sense the precariousness and sometimes volatility of her character as she baffles both consultants over her actual mental instability. Is her father really Idi Amin? Both doctors believe they know what's best for her, but is it really in the interest of Juliet?

The audience surround a box designed to look like the inside of a consultation room and instantly you feel like a fly on the wall throughout the whole action. I felt I was privy to something that is alternatively kept behind closed doors-patient/doctor confidentiality.

Each actress held her own, as their characters fight to win their own battle and triumph. Conflict arises not only between Juliet and her own consultant Dr Flaherty (played by Esther Hall), but with Dr Flaherty and Senior Consultant Dr. Smith (played by Helen Schlesinger). Does she need to stay for a more accurate diagnosis or Will being kept inside make her more unstable?

Power struggles and conflict ensues throughout but who will prevail on top? Blue/Orange is a play that essentially deals with race, mental health and institutional politics.

This show is worth a see and it is clear why they brought it back.
---
Related Links
Blue/Orange is at The Arcola Theatre until November 20, 2010
Afridiziak Theatre News interview with Femi Elufowoju
Afridiziak Theatre News review of Ìyà-Ilé, Soho Theatre