Hit Chicks by Chukwudi Onwere – review
The London Theatre
Words by: Mike Scott-Harding | Published:

Thursday, May 4, 2017 8:49 AM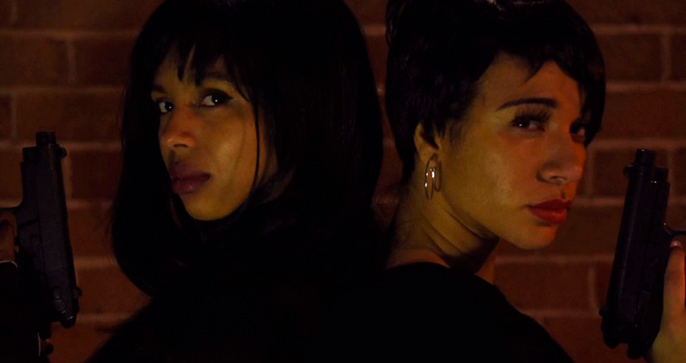 Written and directed by Chukwudi Onwere, Hit Chicks is a tale of sibling rivalry, betrayal, and racial politics in south east London's criminal underworld is described as a "dark comedy"; indeed, it starts and ends in blackout, so that's halfway accurate.
Written and directed by Chukwudi Onwere, Hit Chicks is a tale of sibling rivalry, betrayal, and racial politics in south east London's criminal underworld


With a style aimed somewhere between farce and thriller, the plot is the main villain, lurching as it does from one revelation to another via a chaotic litany of pop-references, Shakespeare quotations, street-poetry, and poorly explored cultural clichés.
Letesha and Alesha are mixed heritage sisters who have just finished a year's assassin training at the 'finishing school' of New Cross criminal mastermind Alan Manning.
Having decided that the two girls have been sufficiently instructed, he sends them off to their first 'hit', not realising that they have an ulterior motive for receiving such a bad education.
To get close to their marked victim (Kevin), Alesha acts as his girlfriend, before the two sisters lure him to a warehouse, where they plan to assassinate him. Alas, sometime during their three month 'courtship', Alesha and (Caucasian) Kevin have fallen in love for real, leaving the older Letesha frothing at the mouth, chewing at the scenery, and barking at the text.  The hits (unfortunately) keep on coming and, before you know it, the potential contract-killing swiftly morphs into a tug-of-love, via Letesha's ill-advised rant on mixed-heritage relationships. As she reveals both the reason for her (race-fueled) opposition to Alesha's relationship, and her insistence on their shared profession, I was reminded of an old Jamaican saying: "You're taking serious ting fi joke".
By all means use farce - or any other stylistic device - to highlight, illuminate, and investigate serious cultural or philosophical matters; but to present these topics, while offering them little more than 'giggle-room' – before leaving them unexplored and abandoned - is to do a disservice both to the subjects, and to those they affect.
By the time Alan Manning returns to put the three on the spot, and then to explain an apparent volte-face  ('murder and greed is good – racism is bad'), I'd lost all hope of a coherent story line, or any emotionally insightful commentary. The play ends with one couple embarking upon a scarcely believable marriage of altruistic convenience, while the other two star-crossed lovers disappear into the night; by which point, I was only too willing to join them.
The staging is minimal, the sound effects simple - but effective - and the performances serviceable. Oftentimes, however, the actors seemed to stumble over the convoluted monologues.  I'm sure that, in the course of a run, the capable actors will relax into their parts. Alas, they will still be hindered by the play's unwieldy plot, odd character motivations, and schizophrenic dialogue.
This was my first time visiting New Cross' cute little London Theatre; I trust that the next visit will be more entertaining. Similarly, I hope that Onwere's next offering will possess a little less rhyme, and a lot more emotional reason. I trust he has it in him.