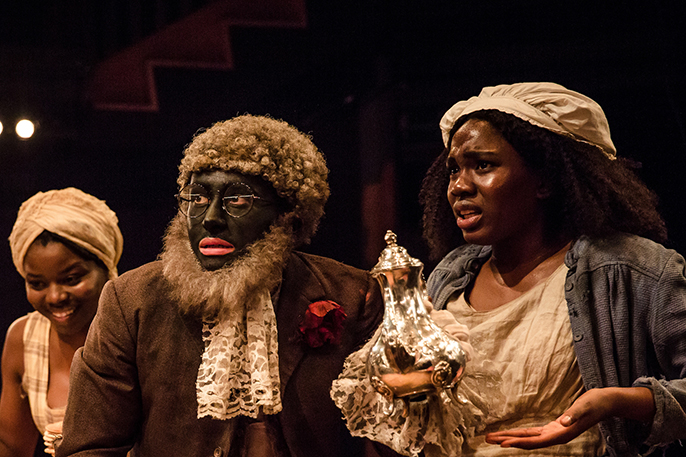 An Octoroon is a worthy, worthwhile and innovative play that imperiously demands our attention
An Octoroon at the Orange Tree theatre is the UK premiere of the OBIE Award-winning play by Pulitzer Prize nominee, African-American playwright Branden Jacobs-Jenkins - an adaptation of (hitherto neglected) 19th century Irish playwright Dion Boucicault's 1859 melodrama The Octoroon. (*an octoroon is a person of one-eighth black ancestry).
See listing for more information on An Octoroon
An audacious, playful, post-modern mash up - part tragedy, part comedy, part melodrama, skillfully fusing pathos and moral power to confront anew some of the horrors of America's darkest hour and the indelible stain on its national conscience - slavery, An Octoroon is incisive, witty and intelligent. Jenkins' play, as he has readily admitted, is both a lyrical celebration of Boucicault and a defiant challenge to him.
Essentially a play about the American race experience, it is a tale of forbidden love between an octoroon slave girl and her white French plantation owner in 1850s Louisiana, together with financial crisis on the plantation leading to catastrophe, murder and mayhem, set against the backdrop of the sordid brutality and iniquities of slavery.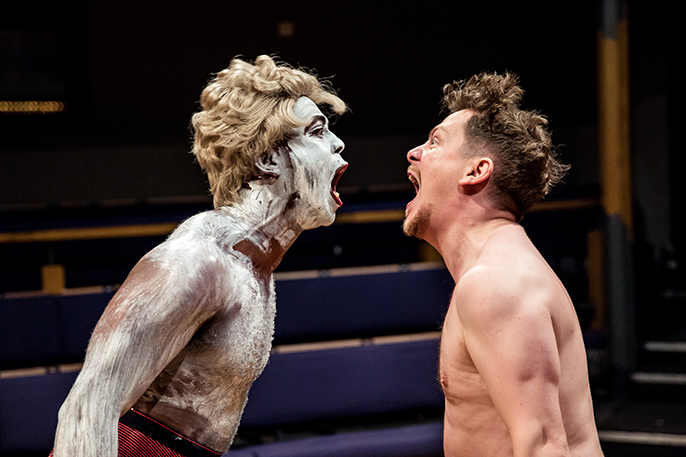 Jacob-Jenkins consciously employs both blackface and whiteface theatrical techniques to make a point: namely, that race as we understand it is a malleable social construct, not a biological reality
The play, resonating with the naked barbarity of treating human beings as chattel, the well-documented house versus field slave antipathy and coruscating black self-hate (embodied by the old slave Pete, who is ferociously loyal to his master at the expense of other slaves) is both incredibly poignant and incredibly sad.
With blatant touches of Pirandello, Genet, Beckett and Frayn (elaborate meta-narratives, an actor playing the playwright who then doubles as an actor with soliloquies on the nature of playwriting and theatrical practices, the use of whiteface, farce, etc), Jacobs-Jenkins' voice is distinct, at times cerebral, at times provocative, at times unashamedly funny and resolutely 21st century.
Jacob-Jenkins consciously employs both blackface and whiteface theatrical techniques to make a point: namely, that race as we understand it is a malleable social construct, not a biological reality - even though the octoroon, whose life is blighted by her black genes, looks white. Here is the old "phenotype v genotype" chestnut and a searing comment on the nefarious tragedies and fluidities of racial identity.
Watching An Octoroon is in many ways reminiscent of African-American comedians Key and Peele's infamous slave auction sketch, in which the pernicious institution of slavery is punctured, dissected and seen through a trenchantly comic lens. At times that can be a very good thing. In the wrong hands, it has the potential to go disastrously wrong, but director Ned Bennett ensures with verve and bravery that things don't go awry. 
Jacobs-Jenkins succeeds in injecting some viciously dark humour into the slave experience. The female house slaves Minnie and Dido's stereotypically sassy, ghetto posturing and histrionic, "girlfriend" badinage - juxtaposed from a modern urban milieu to a rural plantation of yesteryear - is often mordantly amusing and convincingly acted by Vivian Oparah and Emmanuelle Cole.
Several actors play multiple parts, which must be dramatically draining, and the production is acted with energy and integrity, especially Ken Nwosu as George (in whiteface) and Kevin Trainer (in redface) as a Native American.
With its frenetic, dramatic denouement, incorporating both immense tragedy and amusing Vaudevillian farce, An Octoroon doesn't say anything new per se about race in America, but manages to deftly articulate thought-provoking sentiments about man's inhumanity to man, the manifold evils of slavery and the importance of our common, over-arching humanity.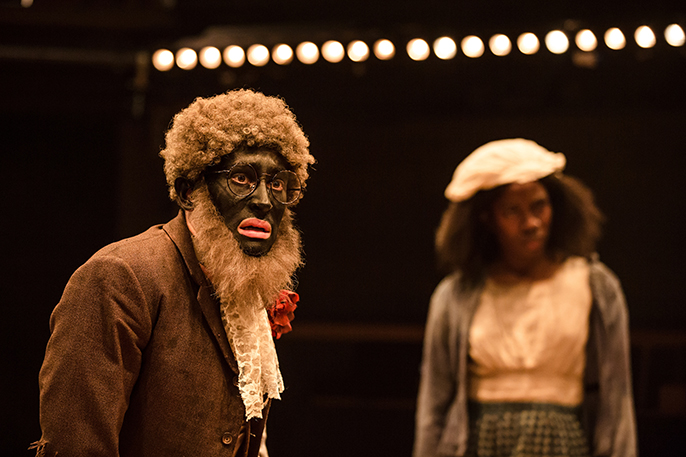 The use of an OHP to show the famous photographic image of a 1930s Southern lynching towards the end of the play is revolting and humbling in equal measure. For me, the stand out, take home line in the play is spoken with poise and profundity by Iola Evans as Zoe, the eponymous protagonist: "My race has but one virtue: it knows how to suffer."
Despite some gratuitous (albeit symbolic) semi-nudity at the start, some gratuitously high camp acting, some intermittent, gratuitously raucous Dirty South hip-hop full of misogynistic profanity, the tediously liberal use of the N-bomb (especially jarring from the mouths of white actors in blackface) and some gratuitous strobe lighting, this worthy, worthwhile and innovative play nevertheless imperiously demands our attention. It is a visceral and immersive theatrical, emotional and moral odyssey which deserves a big audience and one which goes some way to explaining to a modern (majority white) audience why America today still has such a heinously painful, fraught and deeply problematic racial landscape.
Info: An Octoroon plays at the Orange Tree Theatre until 1 July 2017 / book tickets / see listing / Get exclusive £15 tickets for any performance until 10 June with promo code 'Afridiziak'.