Ayad Akhtar's The Invisible Hand – review
Tricycle Theatre
Published:

Sunday, May 22, 2016 11:29 AM

| Review by: Mike Scott-Harding |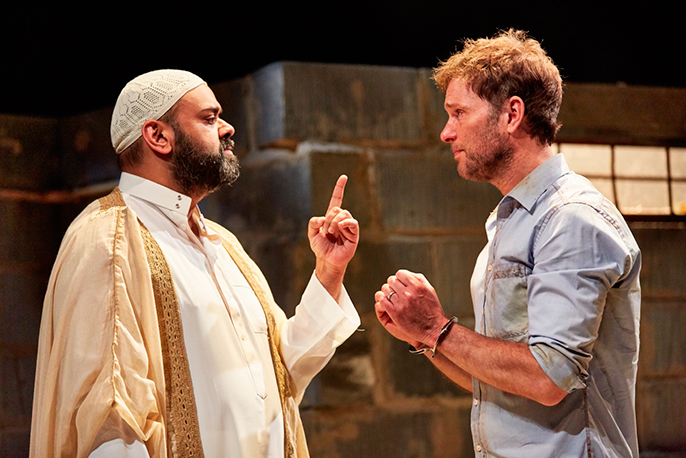 The beauty of Ayad Akhtar's play is that he couches its themes within an involving, emotionally charged group-dynamic.
The term "invisible hand" was coined by Adam Smith in 1759, and describes 'the unintended social benefits of individual actions'. Here, it specifically relates to the effect an individual – or small group - can have on a whole economic structure, and indeed how quickly the market/system engages to 'right the ship'.
If the subject matter appears quite dense, the beauty of Ayad Akhtar's play is that he couches its themes within an involving, emotionally charged group-dynamic.
'Nick Bright' (Daniel Lapaine) is an American banker who has been kidnapped by a 'terrorist organisation' in Pakistan. His captors have tried unsuccessfully to ransom him for $10 million, thereby rendering his life – monetarily, at least - 'worthless'.
So begins a game of high stakes, wherein Nick has to convince his captors – jailor 'Dar', freedom fighter 'Bashir', and spiritual leader 'Imam Saleem' - that he is worth more alive than dead. For this, he employs all his negotiating experience in order to talk them into letting him trade stocks and bonds for the regime, thereby paying off his ransom.
The constant shifts in the balance(s) of power between the characters – as well as being dramatic - symbolises the way 'the market' (world) constantly corrects and renews itself. The stakes are high but, as we get to grips with the constant flow of economic jargon, we realize just how much these dispassionate 'zeros on a spreadsheet' impact – often literally – upon the lives of others.
The dialogue between Nick and his captors is beautifully realised; not only is it dense with information – and brimming with dark humour - but it also gives us a clear idea of what 'money' means to each individual.
For Nick, it used to show the way up the corporate ladder – now it represents his survival; for Dar, a few rupees means one less day in the grip of poverty; for recently radicalized Londoner, Bashir, it is the means by which he can feed many of his Muslim brothers and sisters; and for the Imam… well, who knows?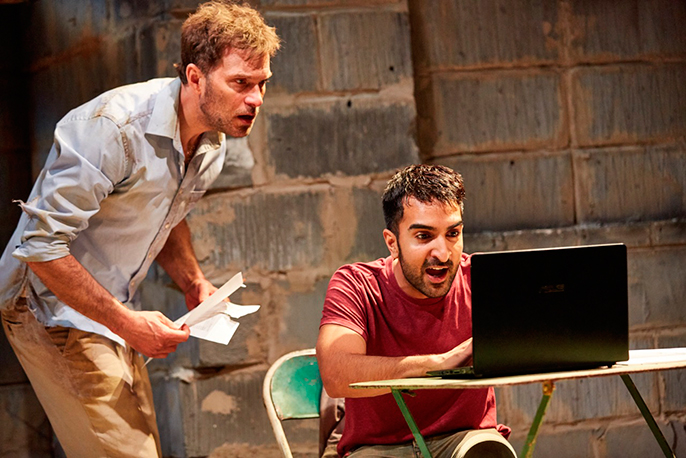 All four performances are good although I found Daniel Lapaine's Nick to be a little shrill at times, and Indhu Rubasingham's direction is fluid and well-realised. Special mention must go to Parth Thakerar (as Bashir) who does a lot of the 'heavy lifting', and also has – arguably - the wider character arc.
Lizzie Clachan's set is well conceived: a single cell designed to hint at a world outside that is tantalisingly out of reach. The cell is at an angle, which seems odd, bearing in mind the required re-jigging of stall seating. However, by the end – as the attack drones fly above (chickens coming home to roost?) - we see Nick's comprehending face retreat into darkness, and it makes perfect sense.
Oliver Fenwick's lighting design is simple and - although the bright lights are a little jarring – their repetition (alongside Alexander Caplen's excellent sound design) gives the audience just a taste of the sensory hardships that Nick has to undergo.
The piece brings up many relevant issues: race, class, economic imperialism, historical colonialism, the difference between a 'freedom fighter' and a 'terrorist', and – indeed - the similarities between a 'terrorist'… and a merchant banker!
It also reminds us that – for many in he west – there is no such thing as 'too much damage'… only 'too little collateral'.
Info: The Invisible Hand is at the Tricycle Theatre until 2 July 2016 | Book tickets