The Burial – review
The Albany
Published:

Monday, May 6, 2013 2:12 PM

| Review by:

Uchenna Izundu

|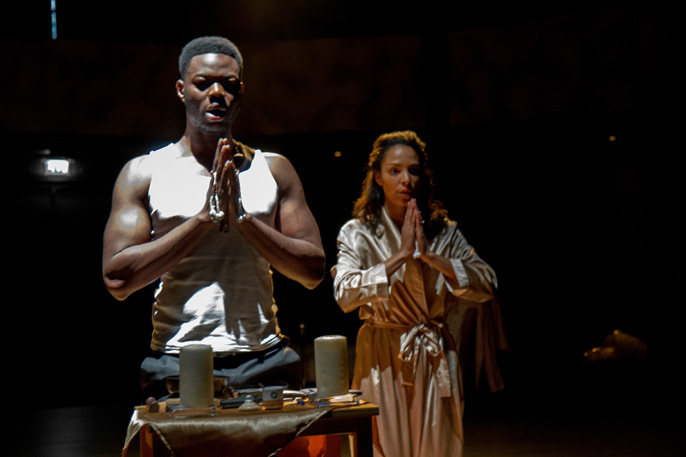 A funeral should be a straightforward affair – put someone to rest in the ground as friends and family grieve and reminisce on memories. But if you have two wives from different religions – Christianity and Islam – and an estranged daughter who is devastated that you didn't approve her marriage to a lovely gentleman from another tribe, it becomes a somewhat complicated and protracted process.
Ever since winning an Olivier Award for outstanding achievement Gone Too Far in 2008 and being nominated for an Evening Standard Award for Most Promising Playwright, Bola Agbaje has consistently pumped out a lot of work that has been performed at a variety of venues. In The Burial, Agbaje examines the expectations and contradictions of her Nigerian heritage when in a flurry of designer shoes and polished fingernails, the warring stepmothers of Funmi descend upon her quiet home in modern day London to demand that she resolves whether her father should be buried as a Christian or as a Muslim. However Funmi, who hails from the Yoruba tribe, is not even interested in her father's passing because she is devastated at the fall out of their relationship as she married Ike, an Ibo Buddhist, when her father wanted her to settle down with a Yoruba suitor. Exposing the hypocrisy of parental expectations, Agbaje reveals that Funmi's father married Ngozi, an Ibo woman whom Funmi had regarded as her "sister" in the household because they had been raised together.
Kemi-Bo Jacobs is a repressed, tense Funmi who is grappling with the devastating impact of a miscarriage. Agbaje is great at injecting comic moments in this work that explores how life evolves into death as Funmi resorts to using a rape alarm to shut up her angry, sniping stepmothers' callous comments to each other like "Whose passport did you steal?" Pamela Okoroafor is a hilarious, animated Ngozi who winces and whines that it would have been better if her husband had suffered from cancer as she would have at least ten months to prepare for his death.
Set and costume designer Richard Andrzejewski has laid a circle of sand around the stage that continuously reminds the audience of Funmi's physical connection to Nigeria along with the ancestral spirits that swoop in and out of her dreams in gaudy, fringed purple and brown gowns. At times the work is difficult to engage with because much of the key dialogue is in Yoruba and it is not always easily translated into the subsequent scenes. Against a creepy soundscape of chanting and live drumming, mixing Funmi's dreams where she sees her father as an eerie spectre with current day realities should elevate and deepen the audience's experiences, but it doesn't: it is confusing and the music doesn't always seem organic in pushing the narrative forward. Moreover, there is a niggling feeling that Agbaje doesn't fully smash the stereotype of the angry black woman as all of her female protagonists are just that.
Whilst the acting is strong, it is a pity that the dark undertones of The Burial, which probes family and spiritual loyalties, doesn't quite pack the punch in portraying these vexing political experiences.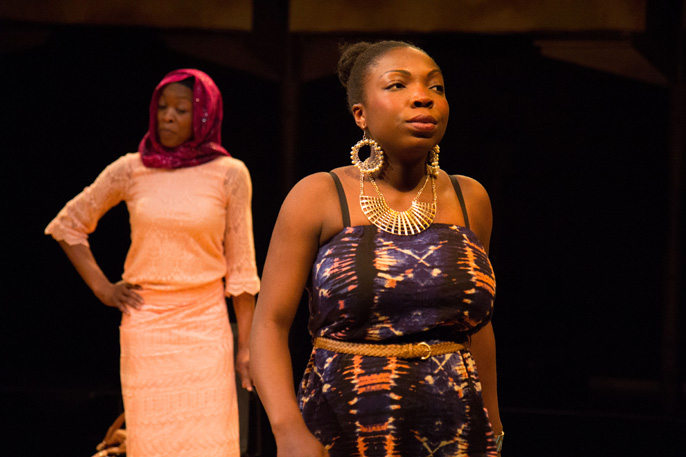 Info: The Burial is at The Albany until May 11, 2013. There is a post-show Q&A with playwright Bola Agbaje and director Franko Figueiredo, after the show on Wednesday 8 May.
Related links
Pamela Okoroafor – interview
Watch the trailer for The Burial
Cast announced for The Burial
See the rehearsal pics from The Burial
Stone Crabs Theatre