Review - Race by David Mamet, Hampstead Theatre
Published:

Friday, May 31, 2013 9:16 AM

| Review by:

Lindsay Johns

|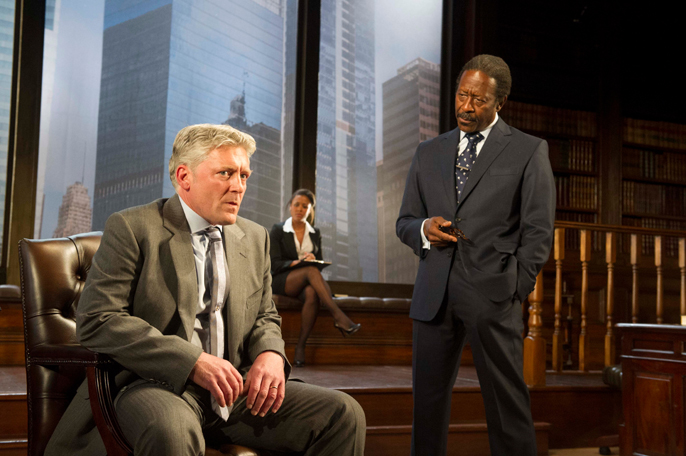 Race by Pulitzer-prize winning American playwright David Mamet is a devastatingly intelligent, visceral and highly incendiary legal drama which deftly skewers, mercilessly punctures and audaciously lacerates its audience with a thought-provoking yet crushingly nihilistic assessment of the place of race and racism in 21st century America.
Ostensibly about a rich, racist, white man accused of raping a black woman who calculatingly hires a black lawyer to defend him, the play's real drama and palpable tension is derived, not from the Is he or isn't he guilty? topos, but in fact from focusing on the subtle, racially-motivated machinations, razor sharp verbal jousting and psychologically-revealing exchanges between the middle-aged black lawyer, his white partner at their law firm and their young, sassy, black female assistant.
Having opened to great critical acclaim on Broadway in December 2009, with Kerry Washington in the title role, I was excited to see the UK premiere of this new production directed by Terry Johnson and to see if a play so firmly rooted in one particular country's traumatic racial history and its concomitant painful legacy of race relations would travel well. Thankfully it in no way disappoints. Race and racism are unfortunately both universal phenomena, wherever one travels.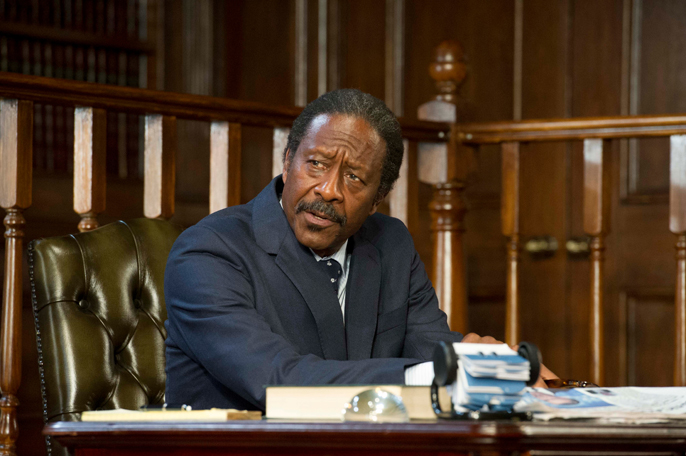 Mainly as a result of Mamet's trenchant stichomythia, this magisterial play both beautifully articulates and skilfully examines the depressingly gargantuan place race continues to occupy in the contemporary American psyche, but does so without hectoring.
In Johnson's incisive, punchy and well-executed production, the relentlessly high-octane exchanges and powerful verbal sparring between Clarke Peters' cynical, worldly wise, black lawyer (bringing his customary Morgan Freeman-esque gravitas to the role) and Jasper Britton as his eloquently Machiavellian, white legal partner are mesmeric and a real joy to behold. Likewise, Nina Toussaint–White is utterly convincing as the sexy, recalcitrant, Ivy League–educated, black legal assistant, whose own (wholly righteous) racial "prejudices" and feminine intuition ironically succeed in undermining her professionalism and result in the play's forceful and challenging denouement.
In addition to being both a savage indictment of the whole legal profession and a searing critique of the nature of American justice, Race tackles head on the eponymous elephant in the room, and does so in uncompromising, straight for the jugular terms. Mindful of W. E. B. Du Bois' famous dictum that race was the defining problem of the 20th century, Mamet seems to suggest that we still have a very long way to come in the 21st century before the ugly spectre of racism and the debilitating preconceptions it gives rise to cease wholly permeating our collective consciousness.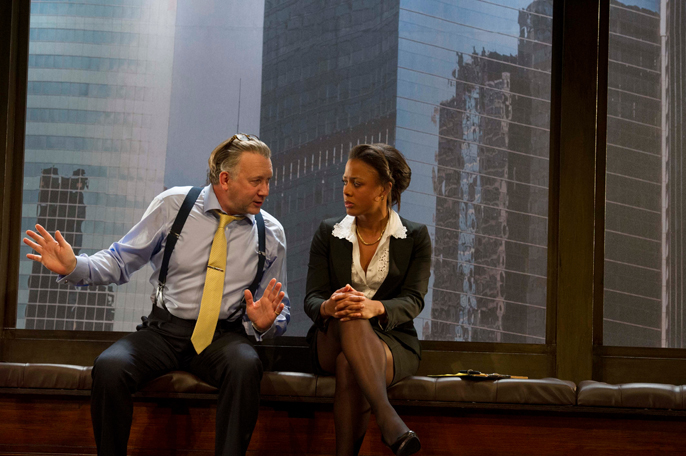 Sadly, as almost always tends to be the case on such stellar theatrical occasions, there was the customary dearth of black faces in the audience. I managed to count a total of five, 3 of whom I knew by name. In a variegated, multicultural metropolis like London, with a population somewhere close to ten million, this is doubly shameful, especially given the play's title and subject matter. Not only is this is a very real human tragedy – and one which, in some small way I hope this review might help to rectify, but it also highlights the painfully small (call it nascent) nature of the black British middle class, from whom a potential audience of theatre-goers would usually be derived.
Race, as Mamet wryly, wittily and yet lugubriously observes throughout this 90 minute play, continues to define us. Our challenge, both as sentient, human beings and truly global citizens, is to not let it, whilst still remaining true to ourselves and remaining mindful of the nefarious iniquities perpetrated in the past.