Review - LIMBO, London Wonderground at the Southbank Centre
Published:

Thursday, May 30, 2013 9:36 AM

| Review by:

Gillian Fisher

|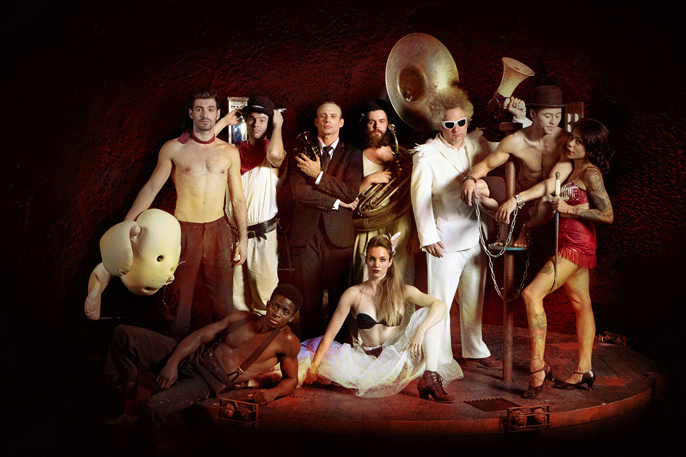 "The show will take place in, above and around the tent." With these words ringing in my ears I felt excitement become tinged with fervid apprehension. In this smoky spiegeltent, on this tiny stage what feats of fancy lay in store? The band took their place behind the stage, filling the tent with a chaotic jangle of sound backed up by a human beatbox. As a foreboding peal like a church organ chimed the first performer took the stage. In this eerie and fantastical world of the unknown I became resigned to the fact that anything was possible. I was in LIMBO.
The show is sometimes funny, sometimes beautiful and always astonishing.


Six performers astound, amuse and titillate in Scott Maidment's realisation of a carnivalesque fantasy. The show combines circus skills, dance, illusion and theatre to create a surreal and completely absorbing spectacle. The music is an integral part of the show and musical director Sxip Shirley has created a fittingly unique sound he has titled 'Jank'. Backed up by multiplayer musicians Grant Arthur and Mick Stuart, Shirley uses a variety of instruments and daily items such as bicycle bells and bullhorns. The result is sometimes bluesy, sometimes funky, sometimes grungy and often all of them at once and many more besides.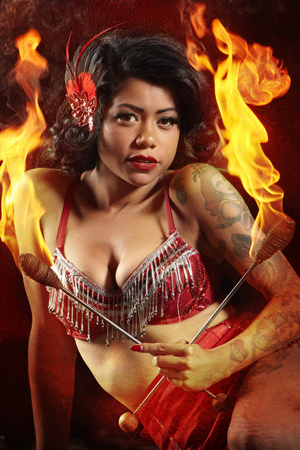 So much of this show's appeal is its ability to defy expectations so how on earth do I review it without giving too much away? I shall endeavour to do my damndest! Each of the performers specialises in a specific field but turn their hands, feet and everything in between to a number of different skills. Evelyn Allard is an accordion playing, tap dancing Canadian with a particular flair for aerial chains. As she demonstrates incredible balance and fluidity of movement her performance is often injected with comedy. She and Heather Holiday provide the glamour of the show. Holiday's elegant vintage look makes her rather modern pastime of fire eating all the more striking. As she shimmies, sings and sword swallows she brings a certain burlesque tone to the proceedings.
The four male artists are a motley crew. Hilton Denis performs his own choreography, which mixes classic tap with jive, breakdancing and gravity defying acrobatics. His timing and cheeky glances at the audience make him an all out crowd pleaser. Jonathan Nosan is the resident contortionist. With a skeleton apparently made of blancmange he bends his body like a be-suited grasshopper. Throughout the show Nosan embraces a slightly salacious peep-show persona superbly. Lifelong circus performer Danik Abishev has perfected the art of hand balancing whilst still looking dashing in a bowler hat. His talent for holding his body vertically aloft by a single extremity is mesmerising.
Six performers astound, amuse and titillate in Scott Maidment's realisation of a carnivalesque fantasy.
Frenchman Mikael Bres is often seen performing with the band or playing a modern day clown role in the dance sequences. He also performs a Chinese pole act; gracefully climbing, energetically swinging and terrifyingly sliding down his single prop. The small troupe's ability to move seamlessly between skills gives the production a sense of continuity as well as intimacy. It also makes me wish I'd persevered with learning to juggle. This is the show that makes wide-eyed youths want to run away to join the circus.
LIMBO embodies a genuine zeal for performance, which more polished acts shows tend to lose. Our thoroughly Victorian fascination with curiosities behind velvet curtains is embraced with just a hint of indulgent sleaze. The show is sometimes funny, sometimes beautiful and always astonishing. Grab your top hat, pull on your braces and go and see what London's Wonderground has to offer.
Info: LIMBO is showing at the London Wonderground at the South Bank Centre until September 29, 2013
Related links