The Suit, Young Vic
Published:

Monday, May 28, 2012 7:01

| Review by:

Sophia A Jackson

|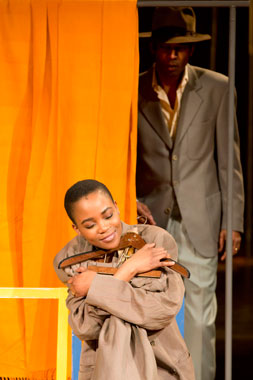 Imagine this. You cheat on your husband and get caught. I mean spectacularly caught as in during the throes of passion by said husband. Although you are wrapped with guilt and profess how sorry you are, your pained husband finds his own way of dealing with the betrayal that goes beyond silent treatment or filing for divorce. No. Your husband decides that if you really want there to be three people in your marriage then so be it. But it will be on his terms.

This is the premise of the Young Vic's latest South African production simply called, The Suit, and it is 'the suit' that is the main character. The husband makes his wife 'feed' the suit, which he says is their special guest and should be treated accordingly. At first this treatment of 'the suit' as if it is a an actual person is a source of amusement both for the audience and his wife but as different scenarios unfold with 'the suit' it becomes too much and we ask ourselves when is enough, enough? It becomes to symbolise something much more sinister as the husband uses 'the suit' to signify his own shame which becomes ultimately his wife's shame.

The writing for The Suit which is set in Sophiatown, offers much food for thought with great acting, a strong script with humour and dialogue that will keep you engaged and asking 'what would you do?' if you were in that situation. There's also the added bonus of the musical ditties that add a large part of the play's entertainment factor.

The cast includes Nonhlanhla Kheswa, Jared McNeill and William Nadylam.

The Suit is part of World Stages London - a collaboration between eight leading London theatres and 12 UK and international co-producers that celebrates the exhilarating cosmopolitan diversity of London.
---
Related Links