Ragtime at Regent's Park Open Air Theatre
Published:

Tuesday, May 29, 2012 16:07

| Review by:

Gillian Fisher

| Afridiziak Star Rating: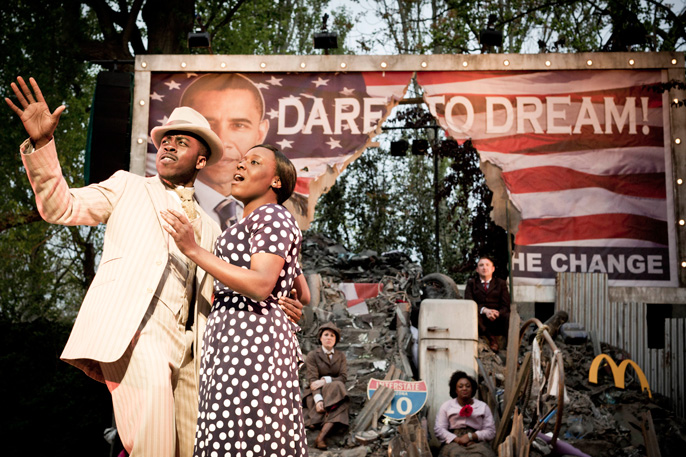 America at the turn of the 20th century.
Everyone should hitch a ride on the wheels of a dream and go to see this musical"


The USA was an entire world of possibilities; Harry Houdini springs magically from locked safes, J.P. Morgan is the richest man in the world and Evelyn Nesbitt is the gleeful and scantily clad Girl on the Swing. Here anyone has the chance to make something of themself. Or do they? Three groups of the American demographic; prospering WASPS, oppressed African Americans and hopeful immigrants are all present in the microcosmic America depicted on the stage. Despite all living in the iconic land of opportunity we see these opportunities vary depending upon religion, gender and skin colour. As we watch the USA of 1906 bubble before us in a haze of ragtime sounds we see the prejudices of 1906 shamefully mirroring those in the 21st century.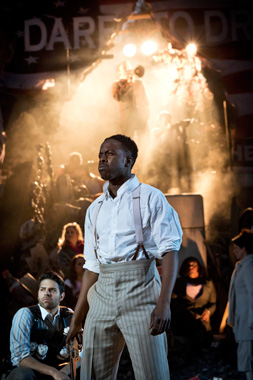 Based upon Terrence McNally's adaptation of the E.L, Doctorow's 1975 novel, Ragtime the Musical is an insightful dramatisation of the American dream and its limitations. In downtown Harlem Coalhouse Walker Junior plays his new Ragtime sound for only one girl, Sarah, who has borne him a son. Full of plans for their future together and his head brimming with the equalitarian teachings of Booker T. Washington he believes that every man can receive justice. But when tragedy sees his new family ripped apart a violent disenchantment with this land he calls home soon follows. Rolan Bell plays Coalhouse with smooth confidence and passion, his deep voice smothering the stage in heartfelt solos. Claudia Kariuki makes her professional debut as Sarah. Giving a wonderfully natural performance her voice is strong and soulful.

Tateh arrives on USA soil on a Latvian ragship. His dreams of watching his little girl wearing pretty dresses and eating apple pie from a china plate are soon quashed as he plunges into the poverty experienced by so many Jewish immigrants. His love for his daughter spurs him on; refusing to relinquish his hope he is played with great physicality and zeal by John Marquez.

The Family represent the American upper crust; living in a big house with wealth and security they seem to have it all. This self made state of privilege goes hand in hand with bigotry which the Father hands out in abundance. Adversely, the Mother played by Rosalie Craig embodies all that is good and righteous in this land of the free. Dressed subtly in stars and stripes she is the country's hope.

The creative team have performed miracles. Set designer Jon Bausor has encapsulated America in a gritty junkyard littered with the commercial products of capitalism, which represent the supposed prosperity of the USA. The backdrop of a ripped Obama campaign poster deftly connects the unfilled aspirations of this century with those of the previous one. This is extended by the character's costumes switching from present day to period dress. The direction is slick; Timothy Sheader has created some fantastically cinematic scenes where the ensemble move in slow motion as smoke billows dramatically around them.

This was an absolute joy to watch with stunning performance from the entire cast dancing themselves dizzy as they sing their hearts out. Whilst still containing the vaudeville elements of the musical genre, this is a stark social commentary full of symbolism and harsh reality. The tinkling ragtime tunes punctuate the story beautifully, and the outdoor theatre couldn't have been a more perfect setting for the production. Everyone should hitch a ride on the wheels of a dream and go to see this musical.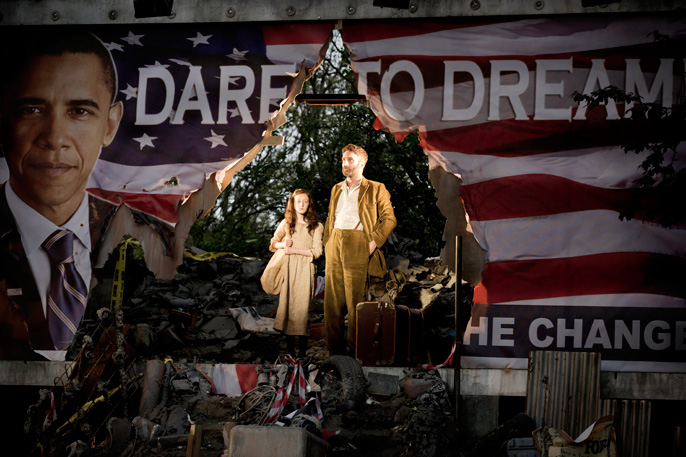 ---
Related links
Ragtime the Musical is at Regent's Park Open Air Theatre until 8 September 2012
Afridiziak Theatre News interview with Rolan Bell, Ragtime the Musical