Egusi Soup, Soho Theatre
Published:

Sunday, May 27, 2012 22:06

| Review by:

Jennifer Rock

|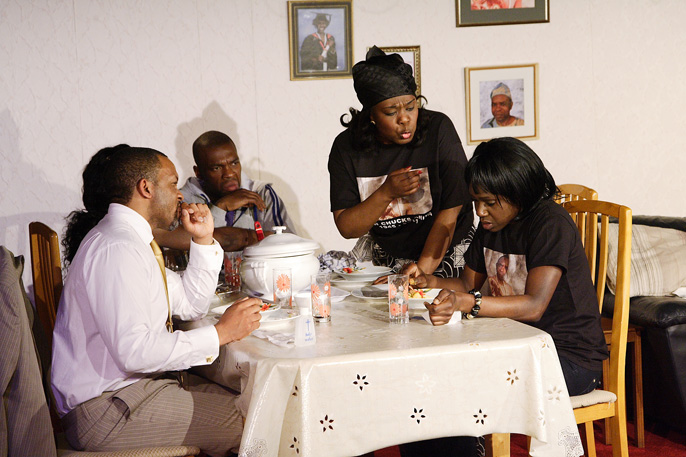 Mr John Aniya (the patriarch) of the family has been dead for nearly a year, so the whole family are heading home to Nigeria to honour his memory and mark the one-year anniversary of his death. As the family are packing, literally taking way too much for their three week trip we find out more about the relationships and secrets which up until today have remained hidden and un-spoken.

Although the play centres upon what gets taken and what gets left behind this isn't solely in the literal sense of cosmetic things and is merely the sub text to a much deeper story. This concept could have been overly clichéd but fortunately it is not and it works. It is tastefully done, funny yet serious all at once.

Grace (Rhoda Ofori-Attah) is the daughter who stayed at home to look after her mum Mrs Aniya (Ellen Thomas) over this past year, she is married to Dele (Nick Oshikanlu) a budding entrepreneur who her mum, classes as a loyal boy although he is from the village. Her sister Anne (Anniwaa Bauchie) lives in New York, she is a barrister trying to make Partner in the law firm where she works. In her mum's eyes she has made it, she is proud, but to her sister she wasn't there when their dad died, so why has she come back now?

As the months have gone on, the Pastor (Lace Akpojaro) has been spending more and more time at the house, whilst he does provide many comedic moments spouting mini sermons such as women who wear silky black underwear have a higher possibility of conceiving. He says he is there to help wade away evil spirits, others might say he is a businessman with ulterior motives.

Although you will never meet Mr Aniya, it is clear that everyone wanted to please him or be noticed by him, he was respected and very much loved. This is where we get an understanding of why the family interact in the way they do.

Ellen once told me that the best egusi soup is dependent on what goes into it, making the soup here symbolic. Families are unique and definitely not one-dimensional and neither is this one, what you see is not always what is there. As I watched it felt as though the audience were slowly unwrapping a gift of pass the parcel, as the layers came off more issues are divulged.

Everything about this play felt real and I can contribute that to three things, excellent writing from Janice Okoh, who provides both a relatable and believable dialogue, very convincing props and great performances from the cast. Janice actually had Ellen in mind to play 'Mrs Aniya' even before the play was fully written and I can see why, she captures the mannerisms and the expectations of a proud Nigerian mother whilst remaining somewhat humble.

I have always liked the Soho Theatre the space is quite small and intimate and you really do feel involved. The props were tastefully used, biscuits and other tinned goods, toilet paper, your own pillow, perfumes and of course hair extensions were just some of the items to be crammed into every orifice of the cases. Even the combination of old-fashioned suitcases to the more common up-date pulled ones added that dimension of realism.

This play has mass appeal with something for all ages highlighting the generational gap towards traditional values, the old versus a new way of thinking.

It is not every day you go to the theatre and actually see the audience laugh because it is funny, I also think they saw some of themselves or somebody they knew or even just got an insight into Nigerian culture. It is definitely worth catching, you might even learn how to let go of the past and not take so much baggage into the next chapter of your life.
---
Related links
Egusi Soup is at the Soho Theatre Until June 9, 2012
Afridiziak Theatre News interview with Ellen Thomas, Egusi Soup
Bruntwood Prize for Writing