The Awful Egyptians
Published:

Sunday, May 29, 2011 6:45

| Review by:

Juliet A Green

|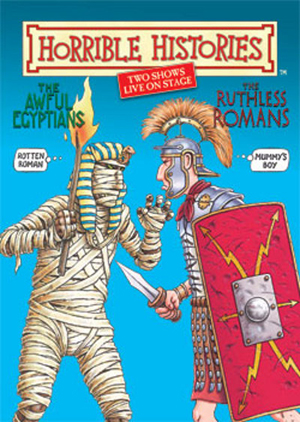 The Birmingham Stage Company brought their adaptation of the commercially successful Horrible Histories books; complete with show program, filled with quizzes and other tidbits, to the New Wimbledon Theatre.

BSC's production of The Awful Egyptians, reminded me of just how captivating, interesting and valuable this area of our history should be.

However, their adaptation is the preserve of pre-school children,and, if enter you must, then do so by leaving all cynicism in the foyer.

Commencing with the exploits of Ramesses II, this once quelling, and rebellious King of Ancient Egypt (known as Ramesses the Great of Egypt) (1279 BC – 1213 BC) carries the narrative through to the discovery of Tutankhamen's burial chamber, some thousands of years later, in 1922. We even witness Ramesses II, being rebuked on stage, for past and future misdemeanour's attributed to this ancient kingdom and its peoples. The productions stance, is in keeping with the moral high ground this series of books has adopted, making them popular reading, by all accounts, with children all over the world.

The 3D special effect by Amazing Interactive and Props by 3D Creations, kept the audience of children and their guardians suitably buzzed-up for the evening, with 3D glasses too. Additionally, Ms Lauryn Redding

(Maisie/Ethel) lifted the show.

The other cast members carried the production through all the elements of the Horrible Histories Tales, and were child friendly if nothing else.