Once Upon a Time In the 90s
Published:

Sunday, May 29, 2011 23:57

| Review by:

Shari Bollers

|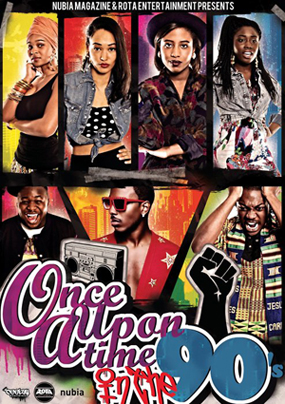 Once upon a time in the 90s does exactly what it says on the tin. From the opening you are transported back in time. The audience are shown a visual on screen montage of the beginning sequence of TV childhood favourites TV from the 90s including Keenan and Kel, Sister, Sister, Cosby show, Fresh Prince to name just a few.

This show is a mixture of song, dance, dispelling stereotypes and a sense of believing in better for yourself.

Six very different characters find themselves sharing a two bedroom flat having been tricked by the landlady and finding that they have no other place to go. As tensions mount and tempers flare they must try and find a way to live together.

Toby and Rio are the social consciousness of the whole play, who firmly believe in black power and aren't afraid to express it. Harlemisha is your typical ride or die chick, who isn't afraid to get all up in your business and ready to throw down at a moments notice.

Samson is the clown of the crew and brings comic relief to what can often be trying situations. Angela and Zane are a couple who just want to spend time bumping and grinding.

The show features popular songs that will amuse and delight audiences with Marvin Gaye's Sexual Healing to Swing Low, Sweet Chariot and many others.

A poignant moment is when Toby and Rio are looking ahead to the future and envision a positive future (2011): more jobs, social change and equality. In the reality of 2011 we still have a way to go in the current economic crisis and beyond. This is a show that was well worth a see and you'll leave wanting for the 90s.