Little Baby Jesus, Oval House Theatre
Published:

Sunday, May 29, 2011 11:33 PM

| Review by:

Uchenna Izundu

|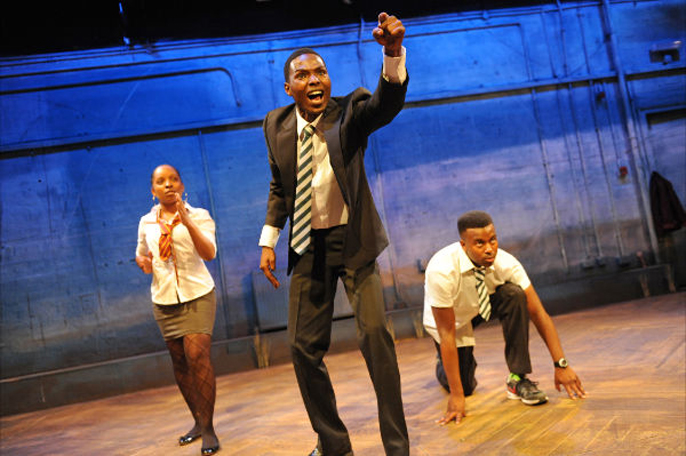 How do the lives of three inner city teenagers interconnect in discovering a baby in the woods outside of London? This is the story that award winning playwright, Arinze Kene, explores in Little Baby Jesus, part of the London via Lagos festival of plays by British Nigerian playwrights. Oval House has teamed up with British-African drama company, Spora Stories, to examine the cultural and political relationship between Britain and Nigeria and debate the influences of these writers on British theatre.

Kene captures the "wake up call" to adulthood for his three characters, Kehinde, Jodie, and Rugrat, using monologues that veer from the amusing to the heartbreaking: playground bullying, assaults by grandmothers on young white girls, and dysfunctional mothers who care for her hurt daughter.

Kehinde has a passion for light-skinned girls or otherwise known as…

…Mixed-raced girl syndrome. My favourite was when that black African or Caribbean skin mixes with that white English or European skin. You get that sun kissed finish.

Jodie is a mixed-race girl dipped in rudeness and rolled in attitude.

Listen, old man, I'm not in the mood for romancing with some weirdo, ya get me, so don't waste your rotten breath init.

And then there's Rugrat. He's the class clown. He really wants to be liked – even by the scariest boy in school.

He was some Nigerian gangster! He laid it on the line! His voice echoed through the playground like a lion's roar, through the plains of the Serengeti. Blood clot!

There is great chemistry between this three hander cast, which often delivers laughs from the audience. For example, the boys adopt different traits for their gang members when Jodie calls their names and narrates how they came to help a customer struggling to bring out her carpet from the washing machine.

Kene's strength is his use of slang and lyrical language, which is familiar to urban Londoners with phrases like "caveman couture," "real talk", and "no fam". Rugrat's narration of fellow pupil Babatunde arriving in class for the first time and overcoming teasing for his Nigerian accent and wearing sandals is a great illustration of this. Akemnji Ndifornyen, who plays Rugrat, has a wonderful sense of comedic delivery.

Kene's monologues give the characters a strong sense of place, age, and thought processes as they relate their experiences that force them to grow up. Kehinde's is centred on the death of his twin sister, Rugrat on seeing the stupidity of his friends in stoning a helpless baby in the woods, and Jodie's dysfunctional relationship with her mother. Seroca Davis offers a raw and pained portrayal of Jodie screaming she would throw her baby away if she ever fell pregnant because her mother never showed any love.

However, Kene treads a delicate balance between recognisable characters, who engage the audience, and stereotypes. Kehinde, played by Fiston Barek who brings a sweet earnestness to the role, is a case in point. He opens the play with his monologue on how he only fancies light skinned girls – particularly mixed race ones because he likes that "sun kissed finish". This pigmentocracy is a sore topic within the black community and is rooted in slavery where lighter-skinned slaves had better treatment than their darker counterparts.

Sometimes, also, the monologues collapse into being lectures explaining cultural differences. Part of this is down to the difficulty of appealing to a non-Nigerian audience and so certain rituals, like Kehinde's family making a wooden carving of his sister to store her spirit after her death, need explanation. But the problem is that it seems awkward.

The trajectories of the characters are distinct, but the culmination of the interconnectivity of their stories is puzzling – bordering into magic realism. So, did Jodie really see Kehinde in her room or was she imagining him? And did she abandon her baby in the woods? Did Rugrat see a ghost near the cliff or was he just distressed by how cruel his friends could be to a baby under the bridge. And that's where the play doesn't feel wrapped up or complete.
---
Related Links
Afridiziak Theatre News interview with Arinze Kene, Little Baby Jesus