The Royale – review
Bush Theatre
Published:

Friday, March 20, 2015 9:52 AM

| Review by: Ronke Lawal |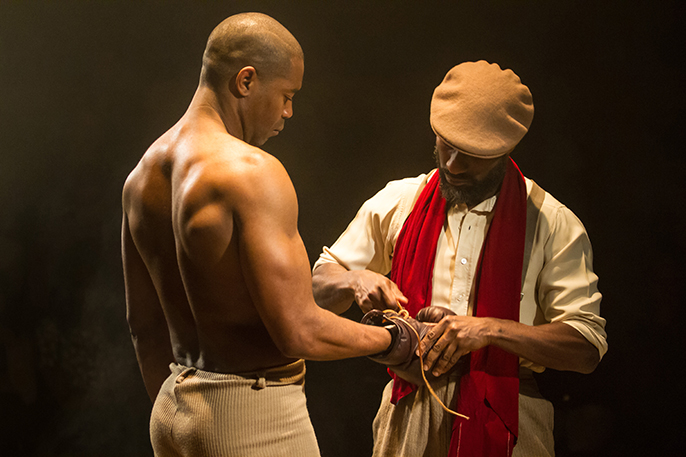 I encourage you, as a lover of anyone who is fighting for the right to shine, I implore you to see Marco Ramirez's 'The Royale'
What would you do if you knew that you were excellent, you knew that you were great but the world would not let you shine because of the colour of your skin?
Because your race offends the very system of oppression that seeks to keep you and your race from rising; would you rise anyway and risk the fallout or would you dim your light and play it safe?
"The Royale" addresses these questions at its core and comes as a timely reminder of the issues of racial subversiveness at a time when the fight for equality is far from over.
Set in a boxing ring in 1905 over the course of six rounds we are introduced to Jay Jackson (Nicholas Pinnock) who dreams of being the undisputed boxing champion of the world. Jay wants to be the greatest, in fact he is the greatest in The Negro Championship of that time but it is not enough. The limitations and restrictions of not being allowed to fight the white world champion eat away at this pride and ego.
Some question why the black community seeks external sources of validation if they can "do for themselves" but being black should not have to be in a vacuum, black excellence should not have had to be invisible in order to make the masses comfortable. This is in essence what Jackson brings to life through his desire to fight in this interracial match.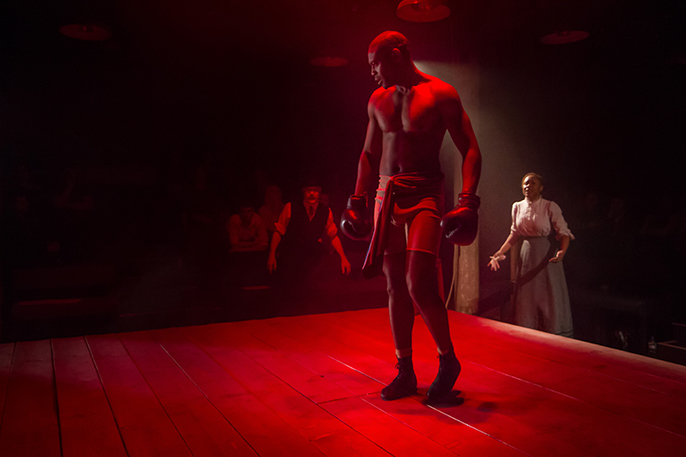 Yet with greatness comes social responsibility, which is portrayed by Nina (Frances Ashman) who reminds Jackson of the ramifications on the black community in a Jim Crow era if he should go through with a fight. She is the voice of limitation and fear, the voice of helplessness, the voice of many black people of the time.
Max (Ewan Stewart) the white boxing promoter served as a reminder of the deep-seeded racial tensions that Jackson stirred up across The US and his loyalty seemed genuine. The duality of pride and condemnation from the community manifested into an internal battle played out perfectly by Pinnock. To whom is he responsible?
It would be remiss of me to try to summarise everything in one review because 'The Royale' is something that you should just see".
On the one hand by making history he would be making a statement about the value and validity of black people at the time but on the other hand he puts those people at risk and yet as Wynton (Clint Dyer) reminds him whatever he does he must do for himself in the first instance. There were so many lessons to be taken from this play, written by Marco Ramirez and based on the true story of Jack Johnson. If I could I would write an essay about it and use it as a marker for the racial tensions that are still occurring across the world 110 years after the play is set. If I could analyse the clear irony of how boxing and sports became identifiable avenues for achievement within the black community who were denied basic human rights through segregation this review would be pages long.
The struggles of being a black woman whose beauty is overlooked time and time again is played well through the character of Nina. Ashman gives a bold and strong performance, at times eclipsing her fellow cast members with her raw and passionate portrayal of a sister who wants to protect her family. Gershwyn Eustache Jnr as Fish plays an enthusiastic, if a little naive sparring partner, well, his growing adoration of Jay is indicative of the hunger for more role models that many young black men at the time were looking for. Ewan Stewart gave a strong and solid performance, which provided balance to what was often an emotive play whilst Clint Dyer's candid portrayal of Wynton was an invaluable addition to the overall depth of the production; his candour was necessary and welcome. The stand out performance comes from Nicholas Pinnock who visibly gave it his all on stage, his grace and power were brought to life impeccably.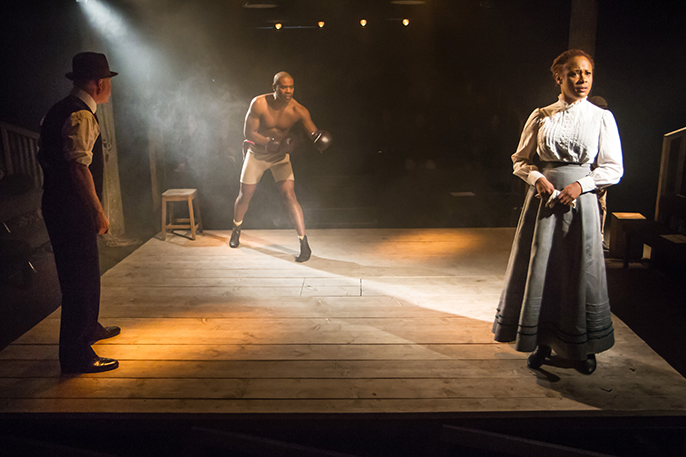 From the stage to the motion and sound aspects, "The Royale" brings a powerful and poignant story to life. There are so many layers to this production, it would be remiss of me to try to summarise everything in one review because this is something you should just see.
As a former lover of boxing, I encourage you, as a lover of anyone who is fighting for the right to shine, I implore you to see Marco Ramirez's "The Royale".
You will not regret it.
Related links