The Honey Man by Tyronne Huggins – review
Published:

Thursday, March 5, 2015 3:38 PM

| Review by: Ronke Lawal |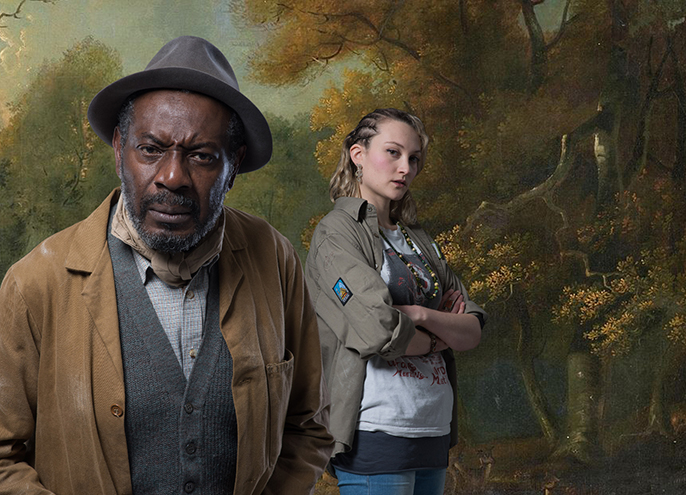 The play itself was highly-layered and nuanced and is worth seeing if only to start a conversation about the issues that it explores.


I'm not sure what I was expecting when I went to see The Honey Man. Needless to say it surprised me in more ways than one. Set in a derelict cottage on the grounds of an English country manor house, ageing Caribbean recluse, Honey Man (Tyrone Huggins), tries in vain to save his dying colony of bees. His life is set to change when fiery teenage heiress Misty (Beatrice Allen) charges into his world and challenges all he knows. Events take a dramatic turn when an antique painting reveals a secret that connects their lives in ways they never imagined, shedding light on the histories hidden in art and the connections between English heritage and the history of slavery.
The use of digital imagery and the intimate stage layout created a depth of atmosphere that allowed for a deep exploration into a number of issues faced in our society - racial identity, historical connectivity and the human condition of loneliness. Honey Man and Misty are worlds apart and yet more connected than they first realised.
They relate to each other's struggles despite their different life experiences further enhanced by their age gap. The script is dialogue heavy as one would expect from a stage production that only has 2 performers. Normally this wouldn't trouble me but there was something lacking in the delivery of the script that at times made me want less talking and more action.
One of my favourite scenes for example involved Honey Man and his bees in which Huggins truly excelled in expressing his passion for apiculture. The bees or "Miranda" as Honey Man called them, represented the readiness for those who you love the most, those who you take the time to care for the most to turn against you with ferocity when you let them down. It was a moving and poignant scene, set in perfect sequence with the ensuing developments of Misty and Honey Man's friendship. It was the action and the visualisation, which made it a powerful scene.
Much in the same way that the scene in which the painting at Misty's house is introduced with smooth, transformative motions before the intensity of dialogue overwhelms the essence of the scene. Obviously I am not saying that the play's script was flawed, just that the moments of true experiential theatre were expressed in those moments of action and motion.
I was not convinced of the friendship between Honey Man and Misty, that is not to say that it is not realistic, I just could not see a genuine chemistry between the characters. There was not enough to convince me that they would actually be friendly and familiar with each other through the course of the play. Beatrice Allen plays a teenager with gusto, although it was at times grating, I have to applaud Allen for an enthusiastic performance. Tyrone Huggins was strong and gave a good insight into the journey that many of the Windrush generation took to the UK for a better life.
I would have loved the play to have been braver with the issue of race, slavery and the impact of digitalisation on societal change. There were moments when I thought these issues were introduced well but it failed to delve deeper. The play itself was highly-layered and nuanced and is worth seeing if only to start a conversation about the issues that it explores.
Info: The Honey Man is on national tour until March 19, 2015 | See listings