My Father and Other Superheroes
National Tour
Published:

Tuesday, March 24, 2015 11:52 PM

| Review by: Gillian Fisher |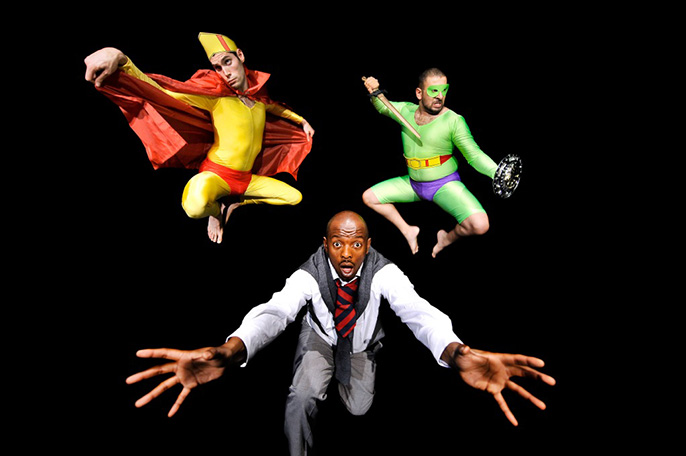 Dressed as a schoolboy in a wonky tie, Makoha gives an arresting performance in his debut theatre show.


What makes a man a superhero? Is it X-ray vision? Super-speed? Or is it the ability to make good pancakes? In his autobiographical one-man show, My Father and Other Superheroes, Nick Makoha revisits his childhood and the characters he idolised. In the absence of his own father, eight-year-old Makoha descends into a fantasy world of lightsabers and batmobiles to discover how to be a man. With great energy and sincere emotion Makoha takes us on a journey through his tumultuous adolescence. Having fled Uganda for the UK at four, Makoha also attended school in Kenya and Saudi Arabia leaving him ever seeking a sense of belonging. Aimed at children aged 8 and upwards, Makoha presents his story in an enthusiastic and relatable way. This is evident from the gasps and excited affirmations from the audience. As we cross continents and mystical lands we are given an insight into the importance of childhood role models. Most significantly, we are shown the yearning that results from their absence.
As an adult watching this show I was transported back to a time of unlimited imagination and discovery. The set designed by Benji Reid is kept simple allowing the sheer power of make believe to thrive. Reid's use of lighting is incredibly effective as we watch Makoha silhouetted as he strikes his best superhero poses. The actor captures the spontaneity of youth spectacularly as he throws himself into his various comic book role plays. Furthermore, his stream of consciousness dialogue is authentically childlike, full of questions and frank emotion. In his frenetic internal dialogue Nick ponders his father. "He's Ugandan, so I'm Ugandan" finding his own identity in a number of different locations. When in Kenya, the ten year old finds himself being the right colour but having the wrong accent. Makoha relays such intrinsic desires as fitting in and acceptance so lucidly. As he re-enacts his father's long awaited Sunday visit he swells with proud adoration which is heart-breaking. The following discussions about "My dad could beat up your dad" smack of playground mentality.
Imaginary worlds have always been a core part of childhood, from fairy tales to schoolyard games. In this production we see how pop culture and graphic novels have influenced this practice. Nick frequently escapes into his own universe when reality gets too much, donning his "Cloak of Invincibilitee!" His prayer-like conversations with Superman or Darth Vader are so moving as they expound his need for male influence. The ingenuity of Makoha's show is its ability to deal with such profound issues of abandonment and self-acceptance in such an engaging way. Makoha is passionate about connecting with his audience; the challenges of his own childhood being so prevalent amongst young people today. With this in mind, the show has been turned into a graphic novel by Mike Collins of Freakhouse Graphics which the patrons get to take home.
Dressed as a schoolboy in a wonky tie, Makoha gives an arresting performance in his debut theatre show. Vivacious and incredibly genuine the show is as thought provoking as it is entertaining. A wonderfully dynamic production which explores role models in the 21st century. And made me want to dig out my She-Ra costume.
Related links