Tonight's the Night – review
Published:

Tuesday, March 25, 2014 7:43 AM

| Review by:

Gillian Fisher

|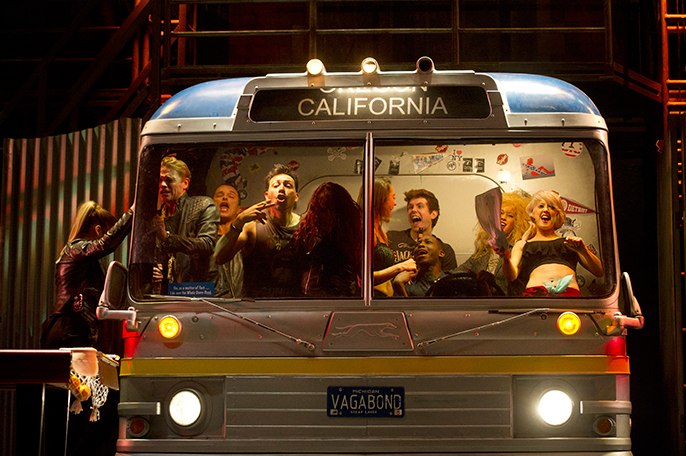 Under the Detroit skyline in Gasoline Alley, Stuart dreams of winning fair Mary's heart. As the nerdy kid in the garage, poor Stu doubts his feelings will ever be returned. Unless he can be more confident, more sauve, more provocative, more like…. Rod Stewart. After a rather serendipitous deal with the devil where he swaps his own soul for the singer's, Stu finds his vagabond heart taking him on a journey far away from his new ladylove. In this comedy by Ben Elton, we witness the decadent highs and the debilitating lows of rock stardom. With plenty of classic anthems such as 'Stone Cold Sober' and 'Stay with Me' to get the audience jigging in their seats this is a fun filled evening of tartan and titillation.
Tonight's the Night is an absolute must for Rod Stewart fans, and a boisterous night of music and merriment for everybody else.
Ben Heathcote plays the lead in this pop-infused escapade and clearly relishes his role. Loveably shy in his pullover and NHS specs, once the glasses are doffed and the hair is fluffed up he is miraculously transformed into a sauntering, stage leaping image of the ultimate bad boy. A fantastic singer; his gravelly tones make him the ideal 'Maggie May' crooning lead. The vocals throughout are excellent; Jenna Lee-James is pitch perfect as garage receptionist Mary. Sweetly coy, she belts out ballads such as 'I Don't Want to Talk About It' with ease. As with most musicals, the songs do the majority of the narration and the scenes tend to fit in around them. The direction by Caroline Jay Ranger is fast paced and potent, allowing the scenes to flow quickly with plenty of bang.
The ensemble certainly hold their own in this touring razzle dazzle production. From the opening garage scene where tyres are being flung and pirouettes are executed in overalls there is a great energy and sense of placement throughout. The set designer Andrew Howe-Davies has included some quirky touches such as a moving tour-bus and a balcony for delivering solos with extra panache. It is upon this balcony that Satan herself appears to answer Stu's pleas, decked out in platform heels, a red velvet overcoat and a few slithers of laciness in between. Tiffany Graves is fabulous both as the archfiend and as the godless rock promoter Baby Jane Golden (a name given to her by Rod himself.) Dismissive, avaricious and strutting she is the face of music PR and has seen it all.
Whilst waiting for Stu and Mary to fall into each other's arms we witness a pretty raucous procession of events, as well as meeting some interesting characters along the way. Jade Ewen plays Mary's best friend Dee-Dee, who as well as being sassy and quick witted is struggling with her own matters of the heart. Her unaccompanied 'The First Cut is the Deepest' solo is masterfully executed with depth of expression and a quavering resonance. Stoner; a middle aged rocker kitted out with snakeskin winkle-pickers and a staggering campness is best described as a Billy Idol and Mick Jagger hybrid. Michael McKell is wonderfully ostentatious in the role as well as having some cutting one liners.
The musical director Griff Johnson has timed the numbers for maximum effect. The audience hopes, rejoices, despairs and celebrates to the sounds of Rod. Naturally the show closed on 'Sailing' and there was much arm waving in the stalls. The script is typical Elton- enjoyably crude with lots of stand-alone feeds and punchlines. The singing is marvellous and the scenes are often great fun, I especially liked the 'Hot Legs' number which involved a massage team dressed like a sexed up version of the Pink Ladies sashaying cheekily along the stage. An absolute must for Rod Stewart fans, and a boisterous night of music and merriment for everybody else.
Info: To find out more about this production or to book tickets please visit the official website