I Can't Sing- review
London Palladium
Published:

Monday, March 31, 2014 3:50 PM

| Review by:

Gillian Fisher

|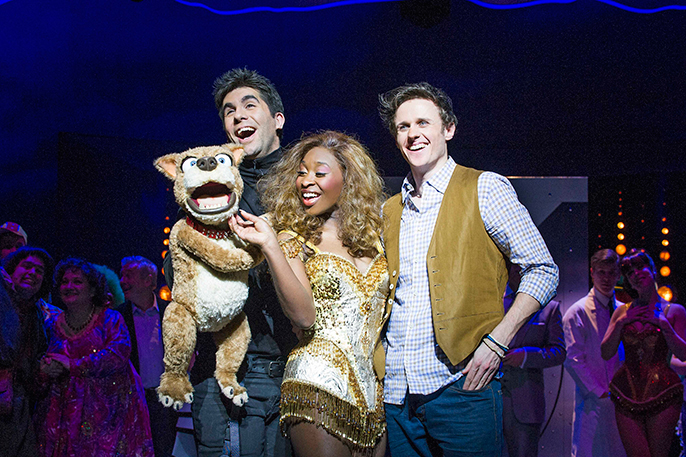 London. 1971. A young schoolboy with big ideas and a high waistband strikes upon an idea to revolutionise the world of light entertainment. Fast forward to the present and X Factor fever has Britain in its shiny claws. All except for one caravan dwelling girl called Chenice who can't get ITV as it interferes with her grandfather's iron lung. In this comedy by Harry Hill, with musical numbers from Steve Brown we observe the powerful effect of fame and ambition in our media driven society. We also see hunchbacks swinging from ropes, talking dogs and a woman dressed as a full English breakfast. Simon Cowell would be so proud.
Cynthia Erivo is stunning as Chenice. A bespectacled young optimist who declares that 'Life is Lovely' as ne'er-do-wells rifle through her handbag. This performer has cast iron lungs and it's particularly amusing to see her expound her inability to sing by singing beautifully. All of the contrived elements which we love to hate about the talent show dynamic are explored with a tongue in cheek savviness. The great British public from old ladies in headscarves to drunks displaying their undergarments, singing 'Please Simon' as they recount their horrific back stories is hilarious. There is a keen sense of percipience throughout, demonstrated cannily when Chenice admits to love interest Max "Our lives have been thwarted by poverty and there doesn't seem to be any way out."(Knowing gaze towards the audience.)
The man himself is played by Nigel Harman and with his over bleached teeth and unnecessary sunglasses he is stupendously vain. A magnificent touch was him descending dues-ex-machina from on high and having people on crutches beg for his healing touch. Louis is played by Ashley Knight and is constantly in need of a lie down and Jordy is played by Victoria Elliott; uttering "Pet" every second word and extolling the virtues of self-love. Highly satirical, the voice of reason is unfortunately imperceptible to human ears as it comes from a dog named Barlow. Simon Lipkin wields the shrewd puppet with expert timing and very canine motions.
This production is sheer frivolous spectacle and the producers (who include Simon Cowell) have gone all out with the song and dance numbers. They include fifties style displays of be-frocked ladies dancing on supermarket conveyor belts and Eminem style raps with monks in cowls breakdancing. The classic show time number 'Uncomplicated Love' complete with staircase, top hats and tap dancing was simply fabulous. In keeping with the X Factor formula we have our presenter Liam O'Deary who has Dermot's voice and mannerisms down pat, and is also rather eager to hug complete strangers. Chenice's love interest Max is played by Alan Morrissey. Determined to save the world with his music he is a rather endearing Rochdale lad.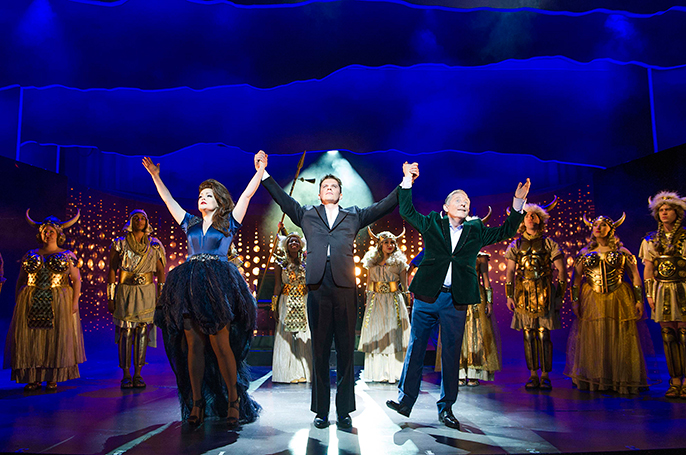 I have a shocking admission to make. I don't like X Factor. I feel sorry for the people whose dreams are shattered when they realise they sound like a Siamese cat in a microwave. I don't like seeing talented people commodified and their private lives being put up for sale. But I LOVE to hate it and I Can't Sing is a complete and amazing mockery of the show. All of the cast play their roles with stupendous sarcasm, and Harman hams up his macho, eyebrow arching role to perfection. The production is great fun and with Erivo at the forefront the singing is incredible. It's rare to see a show which leaves you laughing consistently throughout and with its revolving sets, puppets, great music and cheeky acting I Can't Sing undoubtedly has the X Factor.
Info: I Can't Sing is at the London Palladium / book tickets