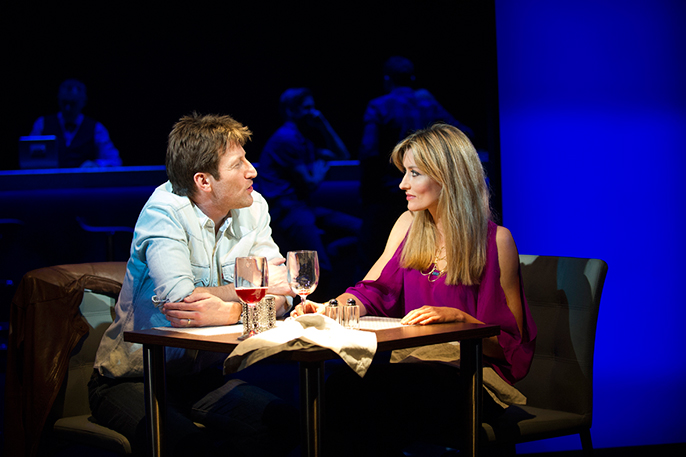 'Fatal Attraction', is the theatre production of the 1987 Hollywood Blockbuster starring Michael Douglas/Glenn Close. For those who have seen the film (and for many who have not), the story is well-known: a successful, married New York lawyer ('Dan Gallagher') decides to take advantage of a night without his wife and child (them having taken a trip to the suburbs to view a potential new home), wherein he meets a glamorous female professional with whom he has a passionate sexual encounter. Unfortunately, for him, the woman ('Alex Forrest') decides that she wants more than a 'one-night' affair and so, when faced with Dan's intransigence, decides to compete with hell for the 'fury' grand prize.
The film was, despite (or maybe because of) dubious morality, and clear misogyny, a humungous hit… one that original writer (James Deardon) decided to revisit because, as he puts it: "… I continued to hanker, somewhat ungratefully, for the movie that might have been…" Having viewed this production, he might very well be saying the same thing about a future stage version in 27 years time. So, this was his original version of the 1979 short-story? I'm sorry, but haven't times changed? I mean, is this story an anti-sex morality-tale? A treatise on male fidelity? A bite-sized 'karma kit-kat'? We're never quite sure.
Since the film's 1987 release, audiences have become a little more 'savvy'. We've had everything from 'Oprah' to 'Jerry Springer', and everything in-between. If you're going to tell a 'cautionary tale', take caution… surely we've heard them all before(!) We 'KNOW' about infidelity, and all its consequences (or at least we feel we do). But, then hey… when has relevance (or lack thereof) been an impediment to resurrecting (or digging up) a well-known 'brand'? Anyway, back to the play.
There are a few problems with this particular production. The main one being that the story is told completely from a 'male wish-fulfilment' stand-point. Bearing in mind that the main protagonist is on stage 'talking to' (acting up for) the audience for over 2 hours, the fact that he is, in no way sympathetic (despite his attempts at 'gentlemanly conduct'), is a huge problem.
The production uses finely crafted, detailed sets alongside clever lighting, they create a fine backdrop, allowing the story to be told smoothly.
Another issue is that the women (Natshcha McElhone's 'Alex', and Kristin Davis' 'Beth') are barely more than stereotypes. 'Alex' is either a simpering coquette, or a shouting psycho, while 'Beth' (his wife) is a simpering ingénue… pretty much throughout. Which brings me on to the other problem: the performances. The story is told to us through Mark Bazeley's 'Dan'. He is both the narrator, and protagonist of the piece. Through flash-back, we get to see Dan's idyllic family life, before it disintegrates beneath sex, knives, pregnancies, and bunny rabbits. Mister Bazeley tries hard to keep our attention but, ultimately, is neither interesting, nor charismatic, enough. At one point, after the infamous 'bunnie-boiler' scene, Mister Bazeley shines a torch out into the audience /'undergrowth' and (imploring 'Alex') asks: "Are you there? Are you watching? Are you enjoying this?" I can only congratulate my fellow audience-members for their collective good-manners.
Miss McElhone (playing the role made famous by the great Glenn Close) looks as if she's either trying too hard, or is not convinced of her 'motivation'; she appears lost. And as for Miss Davis? Playing the 'Beth' role, she looks bored. Even when she is called upon to deliver the 'hurt wife' speech, she seems unable to convey much more than mild constipation. The child was quite good, and the (live) bunny was great… in fact it elicited the biggest audience reaction (a heart-felt 'ahh', for all you cynics out there). None of the three main actors created a sense of anything other than bad day-time TV (with a few more f-bombs thrown in).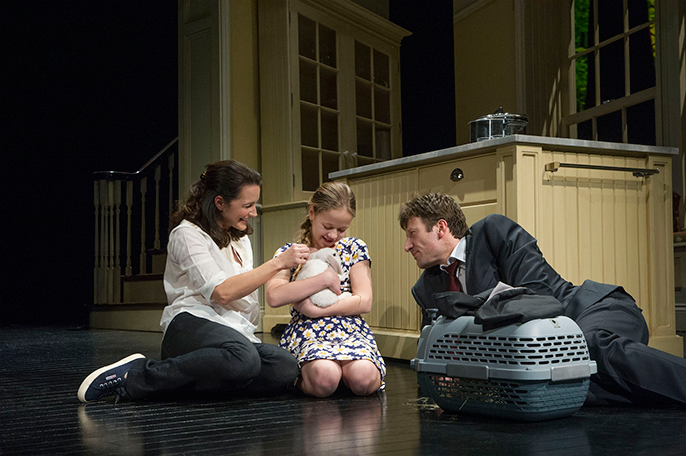 The production uses finely crafted, detailed sets; they include two New York apartments, a NY office building, a restaurant, a bar, a nightclub, a park, and a suburban family home. Alongside clever lighting, they create a fine backdrop, allowing the story to be told smoothly. The staging and sound design are, at times, the production's strongest aspects and, at others, the elements that unbalance it the most; not least, in the 'Madame Butterfly'-influenced denouement. On the whole, though, these are the most impressive aspects of the enterprise.
The large ensemble cast are good value, and help create a clear sense of many different (and varied) settings but, with the three main characters not being up to standard, the effort seems wasted. It's almost as if Trevor Nunn (director) spent all his time and energy sorting out the backing singers, only to leave the lead vocalists to fend for themselves.
Or maybe the 'hit' that was Fatal Attraction, is no longer a good enough 'tune'…?
PS; at the bows, there seemed to be a 'rabbit-sized' hole in the room. My suggestion to the production team is, if they want more than one curtain-call… bring back the bunny.