Dog Days, Theatre 503 - review
Published:

Wednesday, March 12, 2014 10:16 AM

| Review by:

Gillian Fisher

|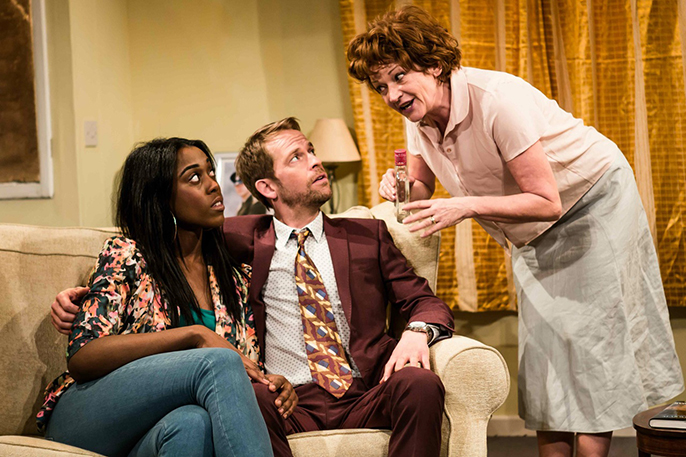 London's property market is a tempestuous environment, so when Cate and John meet a pair of buyers for their house, all looks sunny on the horizon. What they were not prepared for was the utter chaos and contingent revelations that Hayley and Tony would introduce into their semi-detached. In this debut play from Annie Hulley we observe the contrasting faces of domesticity. As events unfold in the chintz laden sitting room it is clear that these sellers are about to get a lot more than they bargained for.
Dog Days is an incredibly enjoyable production; a laugh out loud comedy with a very dark undertone.
Dog Days is brilliantly shrewd in its powers of observation. The dynamic between Cate, who is played by the writer Annie Hulley and her husband John is full of unspoken grievances and regret. Cate does display tenderness towards her husband but this is dismissed as sentimentality or nagging. Jonathan Oliver is wonderfully self-satisfied and passive aggressive as John. As discussions about cleaning jobs and flat hunting arise we realise that after 28 years of marriage this couple is in the process of separating and that John is the more instrumental of the two. Hulley also directs the production, which she does with considerable emphasis as well as comic timing.
The older couples' stalemate routine is brought into sharp focus by the amorous behaviour of the buyers. Hayley and Tony are at the beginning of their relationship and with a baby on the way they have grand plans. Tony, dressed in a purple suit and trendy shirt is a 21st century yuppie. Obnoxious and outspoken he happily shoves his shoes on the sofa as he puts the world to rights. Peter Bramhill plays the role with an edge of malice. There is something very measured in his sweeping statements and unusual actions. In a play filled with angst and confrontation, Hayley provides some light relief. Played by Lashana Lynch the cockney receptionist has no mute button. When she opens her mouth a stream of consciousness flows out, whether it involves nail varnish, soft furnishings or yeast infections. Nodding assuredly with each exclamation, Hayley is the only character of this foursome with no secrets to hide.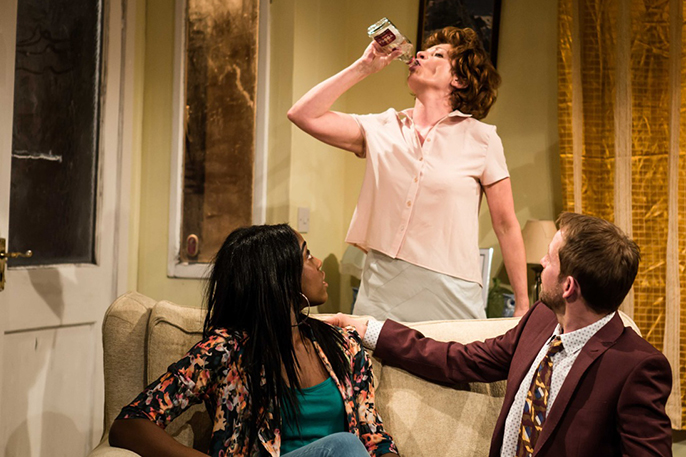 Written as a response to the lack of roles for older actresses, Dog Days expounds the position that so many people find themselves in. Stuck in a rut and longing for a new beginning. It also examines the complex nature of family and parenthood in a subtle, yet moving way. The plot is for the most part heightened reality, but unforeseen circumstances add to the drama and create some effective psychological tension. Dog Days is an incredibly enjoyable production; a laugh out loud comedy with a very dark undertone.
To find out more about this production or to book tickets please visit
Info: Dog Days is at Theatre503 until March 22, 2014 | Book tickets
Related links