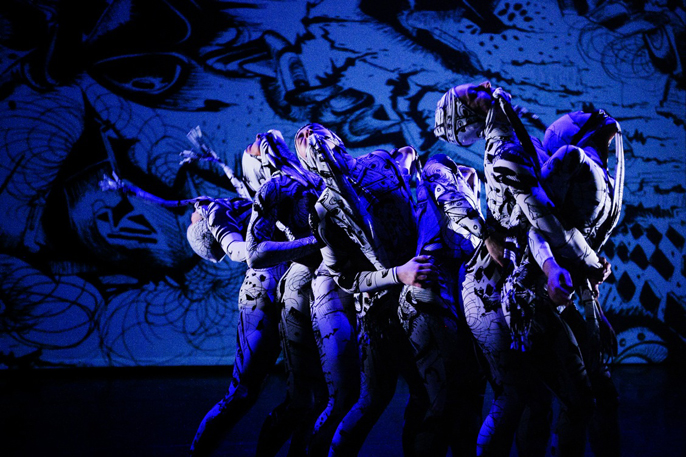 I love to dance but to be honest I am not a particular fan of watching it, however when the opportunity to came up to review "Greed" I jumped at the chance. Perhaps it was the central theme of the production that being "7 Deadly Sins" or the opportunity to see if I could become more culturally refined as I get older.

Upon settling into the theatre we were treated to two short performances from the Grey Coat Hospital School and Westminster City School under the "Dance 4 All" Project of which The Tavaziva Dance Company is a key facilitator. It was a great way to start the show, showcasing the potential of young minds beyond the norm. It was also a superb juxtaposition, perhaps intentionally so, to the content of "Greed" itself.

The dark animated backdrop, subdued lighting and almost futuristic musical score perfectly contextualised the "7 Deadly Sins". We were treated to some wonderfully expressive and sensual dance ensembles which took us on a journey through modern turmoil and our continual battles with each of the sins that we so often forget; Greed, Lust, Wrath, Gluttony, Sloth, Wrath, Envy and Pride. I found myself at times trying to figure out which sin went with which piece; but even without knowing you are still drawn into the dark underworld of sin.
The fluidity and grace which the dancers used to execute Bawren Tavaziva's vision was phenomenal
The fluidity and grace with which the dancers used the stage to execute Bawren Tavaziva's vision was phenomenal. The subtle eroticism of "Lust" to the powerful imagery of "Gluttony"; "Greed" really is a cautionary asseveration for the human condition. Credit must be given to the dancers whose performances were faultless; the energy and power of their movements were truly a vision. Bawren Tavaziva should be proud of this piece of work; he has turned me into a fan of contemporary dance, albeit a new one.

P.S. A special note to the costume designers who created the all in all in one suits. Can I have one please?


Info: Greed is on tour until March 28, 2013
Related links
Afridiziak review: Sensual Africa by Tavaziva, Dance
Afridiziak review: Wild Dog by Tavaziva Dance
Afridiziak review: Heart of Dance by Tavaziva Dance