West Yorkshire Playhouse and Talawa Theatre present Waiting for Godot, Albany Theatre
Published:

Thursday, March 8, 2012 11:35

| Review by:

Gillian Fisher

|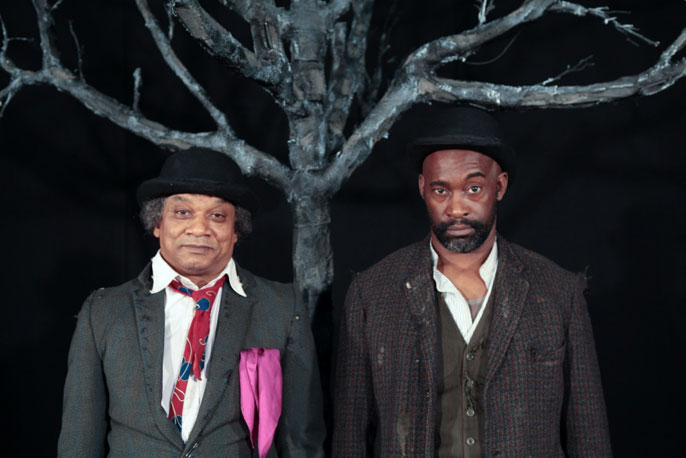 Beneath a tree in a barren landscape wandering vagabonds Estragon and Vladimir keep an appointment; an appointment with Mr Godot. Upon arrival this anticipated presence will bestow upon the unlucky two a kind of prayer, a vague supplication, which through hearing they will find salvation. But Godot keeps no time but his own, and the two men are forced to wait for their deliverance; from poverty, from uncertainty, from fear and ultimately from their endless and tedious waiting.

Beckett's most influential 1949 play has seen many adaptations, but in over half a century of being performed has never been executed by an all black cast. Until now. With Jeffery Kissoon in the role of Vladimir the pensive existentialist musings roll off the tongue in a thick Caribbean accent, his animated bursts of dancing with elbows jolting and hips swaying present a protagonist with a background rooted in domestic rhythm and bass. Patrick Robinson as Estragon swings his arms and pouts his lips with the air of a belligerent child, his desperation to break free from never ending cycle of waiting and his desire for sanctuary can be viewed differently from this position of the displaced. As the two men laugh, play games and argue their constant elaboration upon each other's comments become musical with their extended vowels and upward infection.

The set is empty save for the tree, its blossoming into leaf and the subtly fading light the only manifestation of the slow dripping away of time. Cornell S John plays the supercilious Pozzo, garbed in gentleman's 1940s travel wear and observing the unfortunate vagrants through a monocle as he orders his subservient butler Lucky around like a dog. By virtue of donning his bowler hat Lucky, played by Guy Burgess delivers his profound explanation of the universe in a strong northern English twang, powerfully encapsulating the universal dynamic of master and slave.

Beckett's absurdist play explores the human condition in the most perceptive, humorous and devastating way; the cumulative effects of the choices people make in this transient and utterly forgettable existence can be applied to any individual of any background and any colour. The energetic and talented performances from a cast who happen to be black demonstrate the ubiquity of the ever searching, ever yearning, ever hoping nature of the human soul.
---
Related links
The West Yorkshire Playhouse and Talawa Theate production of Waiting for Godot by Samuel Beckett is on tour until April 7, 2012
Afridiziak Theatre News interview with Jeffery Kissoon
Moon on a Rainbow Shawl at the National Theatre until June 9, directed by Talawa Theatre's Michael Buffong