Sensual Africa by Tavaziva, London
Published:

Saturday, March 17, 2012 8:18

| Review by:

Gillian Fisher

|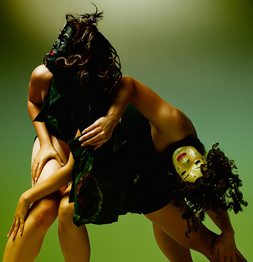 Malawi. The culture of this small southeast African country is deeply rooted in dance; hands clapping in celebration, feet stomping in mourning, shoulders swaying in commemoration. An essential part of traditional ceremonies, the dances performed during initiation rites are infused with significance and provide the inspiration for Bawren Tavaziva's new production Sensual Africa.

Combining symbolic tribal steps with modern dance moves, Tavaziva has created a production bursting with energy and unbridled passion. The eight dancers leap bare footed across the stage, the two males in white unitards accompanied by six females in vivid orange slips. Set predominantly to Isicathamiya music with some fast paced hip hop sounds thrown in, the dances themselves are hugely diverse, including large amounts of floor work as well as lightning speed turns, high kicks and balletic lifts. Fast paced and dynamic the focus shifts from dancer to dancer as each gets their chance to dominate the stage, the solos tending towards defiant pounding of the boards with lots of pelvic thrust.

Deeply erotic in places, the dancers slide over one another, moulding their bodies to each other's in smooth flowing movements. The Malawi influence feels especially palpable during the synchronised formations when the dancers shake their hips and sway their arms in unison with a distinctly ceremonial tone. This is enhanced by the atmospheric pitch black set, a smoke machine and subtle dappled lighting being used to great effect.

A highly enjoyable production, opening with a performance from a youth dance group showing their skills with flair and imagination was a particularly nice touch. Whilst the Tavaziva dancers are extremely talented and the choreography was hybrid and fresh there did seem to be a lack of build throughout, the narrative of the dances remaining unclear. Despite this, the production remains a hugely watchable and ingenuitive piece of contemporary dance.
---
Related links