Review: Krunch, Albany Theatre
Published:

Monday, March 7, 2011 7:43 PM

| Review by:

Ekua Ekumah

|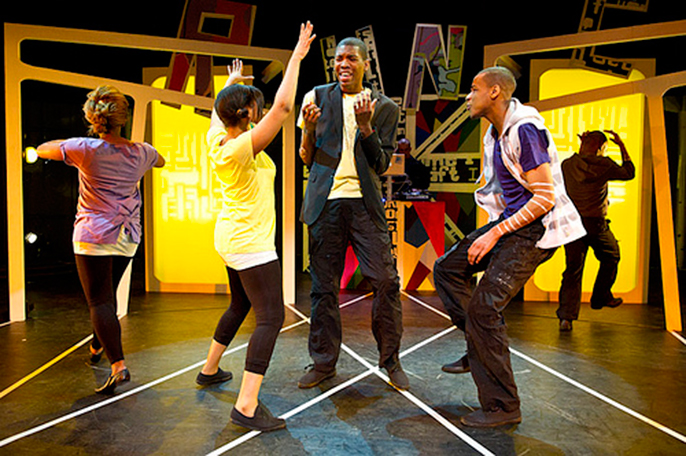 What does it mean to be a black British youth in Britain today? The question posed by Talawa's new production Krunch, a piece devised and written by its talented and intelligent young cast, aided by professionals in the business tries to answer this question.
The thing that struck me most about this piece of urban theatre was the diversity of voices and identities that constitute what a black British youth is supposed to be and creates a platform where these young black Britons show us who they are.
On their own terms, which in this case meant a DJ playing a live set in the centre of the stage, a graphic designed backdrop, with the words Krunch sprawled across like a skyline, the eight strong young cast enter and inhabit the space, wearing their 'identities' in tribe like fashion, on their skins.
We are immediately plunged into their world of music, dance, movement, spoken word, song and rap, while they perform the complexities of what it means to be a young black Britain today.
For a generation growing up in a highly technological age, I was pleasantly surprised how little the production relied on technical gimmicks but rather showed the dexterity with which these young people express themselves, through a multiplicity of mediums.
Multiracial relationships, black male hoodies, authority, Africa, Facebook, MTV, BET, Pop Idol, black women, reality TV and neo black child, are some of the topics tackled in Krunch, sometimes in a light hearted, comical, serious or touching manner. Whatever the style, it was always thought provoking.
I was caught up in the energy of the cast but was most impressed with the depths of their thinking. The future is bright, the future is black British youth.
---
Related links
Krunch is on tour – view listings information
Afridiziak Theatre News interview with Don Warrington
Paula B Stanic wins 2008 Alfred Fagon Award
Talawa's website