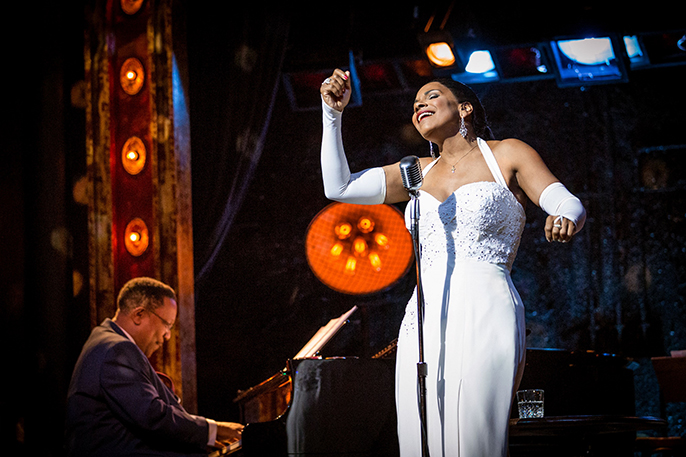 Let's cut to the chase; Billie Holiday was – and remains – one of the most important singers or musicians (regardless of gender or genre) to have emerged from America during the 20th century. There were, of course, other great African-American songstresses in the '20s, '30s, '40s, and 50s, each with their own special gifts. Miss Holliday – or 'Lady Day', as she came to be known – was unique among them.
For over 90 minutes, Audra McDonald commands our attention. Whether singing classic songs from Billie's catalogue or regaling us with tales of 'Billie's blues', she is nothing short of mesmerising.
She didn't have a big blues voice like Bessie Smith; nor did she possess the versatility of Dinah Washington, the multi-octave musicality of Sarah Vaughan, nor the other worldly be-bop flexibility of Ella Fitzgerald. What she did have – other than her extraordinary phrasing, and unique tone – was an authenticity with a lyric that, up to that point, had not been heard (or felt) before. Her ability to exist within the lyric – to blur the lines between writer, singer, and listener – redefined 'popular song', and was a skill that never deserted her, even as her health and vocal powers diminished. Indeed - in my humble opinion - the more her voice deteriorated, the more those lines disappeared. If one listens to her '50s recordings – made near the end of her life, when her body was ravaged by years of hard living, drinking, and an acute heroin addiction - one can hear her voice is but a pale shadow of the bright, youthful sound she delivered in the mid-'30s. Except in one respect: it could still make the listener feel, like no jazz singer before or since.
And so - this is where we find 'her', in this (almost) one woman play-with-music.
The plot is simple enough, the action taking place in 'Emerson's Bar & Grill' - a real-life establishment in South Philadelphia that Billie Holiday played (to 7 patrons) in one of her last performances before her death in July 1959. The imagined script has 'Lady Day' (Audra McDonald) singing and telling stories about her life, accompanied by pianist/chaperone 'Jimmy Powers' (Shelton Becton). For this staging, Musical Director Becton's excellent piano is ably accompanied by U.K.-based session veterans Neville Malcolm and Frank Tontoh (on double bass and drums respectively).
The stage is authentically set, with all three players wearing period garb. On either side of an elegant '50s microphone are real theatre patrons (representing the '50s audience), all sat around a selection of tables and chairs. The trio performs a few jazz instrumentals, before 'Jimmy Powers' (Becton) introduces 'Billie Holliday' onto the stage. And what an entrance!
Audra McDonald's physicality is, at first, unnerving: she is twisted, limping - her shoulders constantly hunched. Then it becomes clear: she isn't just playing 'Lady Day' – she is evoking her. From her slurred speech and unsteady gait, to that voice – brought to life with extraordinary technique, musicality and soulfulness far beyond mere impersonation – she is extraordinary.
For over 90 minutes, she commands our attention. Whether singing classic songs from Billie's catalogue ("Gimme a pigfoot", "God bless the child", and the ubiquitous "Strange Fruit" are just some of the musical standouts), or regaling us with tales of 'Billie's blues', she is nothing short of mesmerising. She parades around the stage drinking, smoking, reminiscing, cussing and fraternising with the customers/audience-members. At one stage, she appears to fall asleep mid-song after having taken a sneaky off-stage 'pick-me-up'. In short, she gives us an absolute sense of what Miss Billie Holiday might have been like in her last months. It is an absolute tour-de-force of a performance, and worthy of the standing ovation and 2 curtain calls she received at this performance - as well as the 2014 Tony award she received for her portrayal on New York's Broadway stage.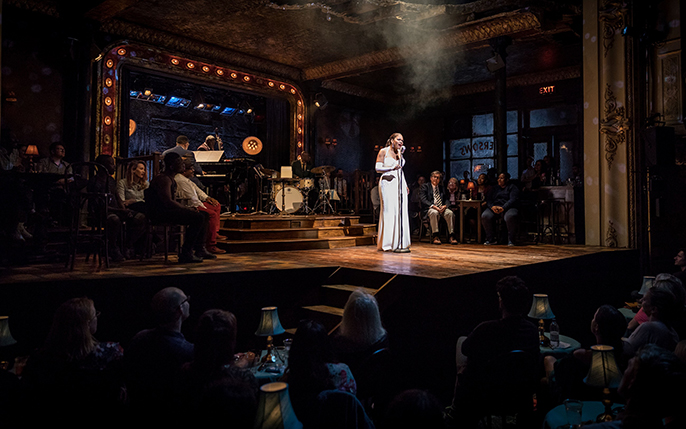 This is Audra McDonald's show – and she is nothing short of extraordinary. Lady Day – I'm sure – would have been proud.


Also worthy of huge praise is Lanie Robertson's wonderful script. Those among us conversant with Billie Holiday's life-story will recognise many of the tales and references featured here. If not, it really doesn't matter. The anecdotes are weaved in and out of the songs so expertly that one feels transported into the very heart of what made 'Billie' – or Eleanora Fagan, as she was christened - who she was. Billie was as much a victim of her dependence on 'bad men', as she was a statistic of substance abuse. Similarly, her path was equally stymied by her constant self-sabotage, as by her harsh childhood. Ultimately, her life was framed – as so many were - by the racist 'Jim Crow' laws in America at the time. Was she a woman ahead of her time, or did she just run out of time? Did society 'catch up' too late to save her? Was the act of treading that delicate balance between her own strengths and weaknesses – something we all have to accomplish – just too much for her? Perhaps in a later era – without the need to be defined and dominated by 'the wrong type of man' - her strong sense of injustice, pride, and individuality might have seen her marked as a different kind of feminine icon. In a beautifully calibrated piece of writing, all of these interweaving aspects are explored with style, passion and humour.
As mentioned previously, Shelton Becton's fabulous musical direction, piano playing and sensitive supporting performance as 'Jimmy Powers' must be congratulated. Similarly, Lonny Price's Direction is impeccable, as is Christopher Oram's Set Design. Paul Groothius' Sound, and Mark Henderson's Lights deserve special credit, also. Indeed, the denouement – with Billie's voice silenced, and her very life-force slowly fading into darkness – is one of the most moving final moments I have seen in a theatre for a while.
When all is said and done, though, this is Audra McDonald's show – and she is nothing short of extraordinary. Lady Day – I'm sure – would have been proud.
Please – if you can – go and see this show.
Info: Lady Day at Emerson's Bar & Grill is at the Wyndham's Theatre on Charing Cross Road until 9 September 2017 / book tickets