ZarasCasket – review
John Gielgud Theatre, Rada
Published:

Saturday, June 27, 2015 10:17 PM

| Review by: Hanaa Coan-Ali |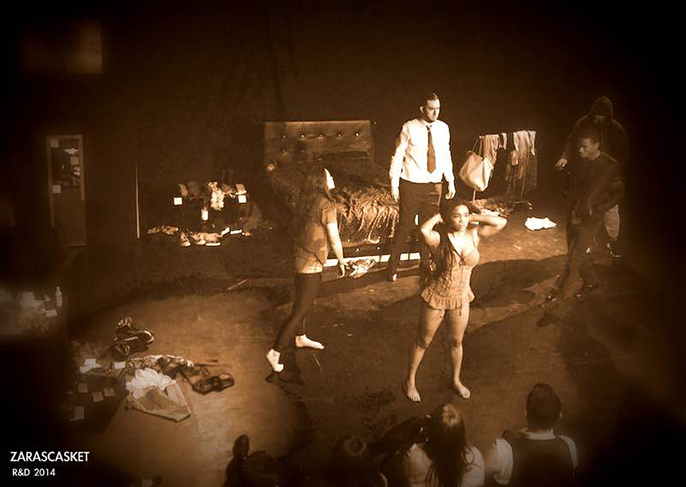 On Tuesday, June 23, at the John Gielgud Theatre, Rada, 'Zaracasket' addressed the life of a young, wild, outrageous and erotic woman who seeks her pleasure in the sexual relationships between various men.
We saw a rare stylistic take on a sensitive story where the audience understood Zara's life over time. Set in her chaotic bedroom where her lyrics were scattered all over her walls, we were introduced to four men who immerse themselves with Zara's 'services'.
All four men have their own story and over time start to feel a connection with Zara, a connection more than just sex. Zara's on-going reason of refusal is later revealed by her own statement made, that she was sexually abused by a close family member from a young age.
Another young woman is introduced into Zara's life and she too falls in love with Zara, but not by surprise she runs away from love and heals herself in the only way she knows, sleeping with other clients.
Throughout the play, Zara refers to each man as a number. 'Number 54' she would say; this alone reflected the zero considerations for any of her male customers.
Evidently all that Zara has in her life is her various sexual relationships and her capability of creative writing and spoken word. Throughout the play, Zara and a fellow cast member Zackaria (childhood relation) would speak in philosophical tongues. The two shared a deep relation that clearly marked differences between Zara and her other male relations.
Movement played a meaningful part in this play, what better way to present lust and passion than abstract. Zara performed phrases and dances that delivered tension to the audience in a fresh format.
One obsessive character, a middle-aged married white man demonstrated his control over Zara where he became psychotic and began hurting her. He makes demands for her to join him in Portugal, and as she refuses the play ends with his arms her around her neck squeezing her to her death.
'Zaracasket' is a beautiful illustration of the unsettled life of a young woman in desperation to get money, the only way she knows how.
Info: ZarasCasket was at the John Gielgud Theatre, Rada on June 23, 2015
Related links
ZarasCasket at the Paddington Arts Centre, November 21, 2014