The Motherf**ker with the Hat - review
National Theatre
Published:

Monday, June 22, 2015 10:32 AM

| Review by: Mike Scott-Harding |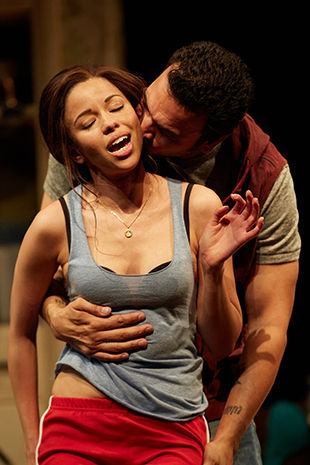 Let's engage with the 'elephant in the room' first.
The title of a play can serve many purposes (e.g.; to name a protagonist, to sum up a story, to emphasise a theme, etc.).
The title of this particular production is the shock-tactic equivalent of a beautifully designed window-display fronting a badly-stocked retail-interior.
[[NOTE: Perhaps this makes a theatrical review the retail equivalent of 'try before you buy'? Anyway, I digress…]
The play starts promisingly enough with 'Veronica' (Flor De Liz Perez) on the phone to her mother. She is a tightly-wound mass of energy; at once admonishing her mother for drinking too much and being with the wrong boyfriend, whilst nonchalantly snorting (presumably) cocaine from the table.
At this point, 'Jackie' (Ricardo Chavira) enters with flowers, news of a newly-acquired job, and tales of his continued sobriety. The two love-birds could not be happier – so it would seem – as they prepare for sex and communicate their desire for a shared 'happily-ever-after'. However, cupid soon loses his aim as Jackie notices a hat lying on the table. The hat does not belong to him and – despite her denials – he is convinced that she is being unfaithful.
The stunning sets – in conjunction with superb lighting – fade us in and out of the scenes quite superbly.


Thereafter we are led a merry dance as we meet 'Ralph' (his 'AA' sponsor), 'Victoria' ('Ralph's wife ), and 'Cousin Julio' in what is – ostensibly – an anguished farce about sobriety, faithfulness, and friendship.
The stunning New York-based sets – in conjunction with superb lighting – fade us in and out of the scenes quite superbly.
Unfortunately, despite the best efforts of both cast and production, coherence and consistency are the first casualties in this particular theatrical war, rendering much of the profane 'street-bop' dialogue toothless and redundant.
Miss Perez - at least in the opening salvoes (before the story makes her too passive and stretches credulity) – is good value.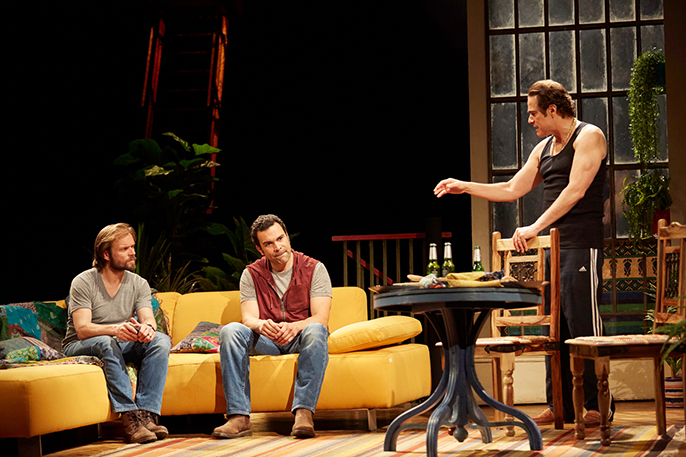 Yul Vasquez too, does some admirable comedic work as the camp (but oh-so-macho) 'Julio'. Indeed, he must have been doing cartwheels upon reading the script as his is the only character that - as well as being both funny and interesting - remains consistent throughout (he certainly swears with greater eloquence).
The other performers, although competent, are ill-served by a play that strives for profundity, yet comes across as glib, patronizing, and – worst of all - contradictory.
At one point, there is a fight scene which is at once clumsy, carefully choreographed, inevitable, gratuitous, and strangely lacking in catharsis; it certainly says much about this forced 'farce' that its shock-value soon gave way to giggles.
In summary: The staff try hard but neither the 'sales pitch' of the actors nor the 'point-of-sale' of the set are able to sell this dodgy product(ion).
Info: The Motherf**ker with the Hat is at the National Theatre until August 20, 2015 | Book tickets