hang by debbie tucker green - review
Royal Court Theatre
Published:

Saturday, June 20, 2015 2:56 PM

| Review by: Gillian Fisher |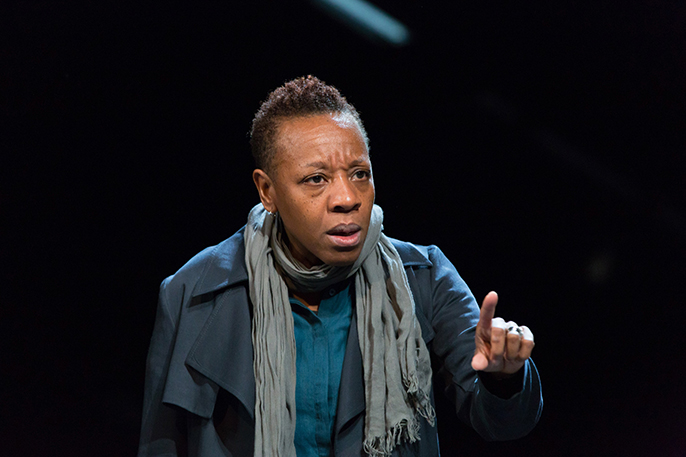 Jean-Baptiste is mesmerising in this role. Aggressive and resolute, she embodies human survival.


"Let the punishment fit the crime." This ancient legal aphorism is the fundamental principle upon which UK sentencing is based. But in an age of bureaucracy, it is appointed court officials who deem which punishment is most fitting. hang, debbie tucker-green's provocative new play turns the concept of legal justice on its head. The criminal's fate is placed in the victim's hands; taking retribution out of the judicial realm and into the personal. In this tense, expository drama, Marianne Jean-Baptiste plays the woman with the gravest of decisions to make.
The 70 minute three hander consists of a single scene. An appointed meeting between two police officers and the victim where her decision will be finalised. All characters remain anonymous, with Claire Rushbrook and Shane Zaza playing the officers, One and Two. The united professional front of these two agents is strongly contrasted by the raw emotion of Jean-Baptiste's character, Three.
This juxtaposition is at the centre of this production. Rushbrook and Zaza's desperation to stick to protocol and tick boxes becomes so absurd when faced with Three's reality. Rushbrook is clearly the more senior officer, but seems terrified of being left alone with Three. She plasters a strained smile on her face and offers beverages in a show of professionalism. Zaza has an earnest naivety, having not yet learnt to be selective with information. As is tucker-green's great strength, anticipation is built superbly. The crime is never named; rather Three alludes to it through revelations about the devastating effects it has had upon herself and her family. Leaving the actual offense to the audience's darkest imaginings makes the piece all the more unsettling to watch.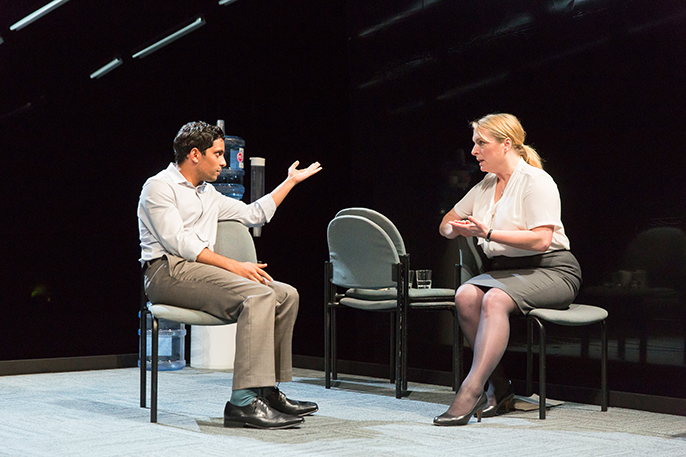 Jean-Baptiste is mesmerising in this role. Aggressive and resolute, she embodies human survival.


Jean-Baptiste is mesmerising in this role. Aggressive and resolute, she embodies human survival. All placid adages from One and Two are rejected as she gradually lays bare her daily struggle. Dialogue driven, the script is compelling, full of word play and a circular flow of lyrical expression. Awkwardness permeates this production; with two officers attempting to remain aloof whilst appeasing. This is reinforced by the generic set designed by Jon Bausor; a nondescript meeting room complete with stackable chairs and a water cooler. The clever use of a reflective backdrop makes the room stretch away into oblivion. When paired with Tim Mitchell's subtle use of lighting this highlights Three's isolation during her most emotive monologues.
hang raises many issues, not least our attitude towards justice. Capital punishment has not been practiced in the UK since 1964. But Michael Gove's recent calls for a return to the death penalty suggest an inclination towards 'a life for a life.' The play also poignantly addresses the cultural obsession with administration which overrides any personal responsibility. This is most striking during Two's clinical description of execution methods. Directed by the playwright, the play ripples with intensity but also a tendency towards exaggeration. Rushbrook and Zaza's clumsy double act is well played, but at times extends just beyond the believable. Nonetheless, this is a powerful piece. tucker-green forces us to consider what constitutes a heinous crime. Rather than reducing it to mere technicality, the play focuses upon the enduring effects of crime upon the victim.
Related links
Shane Zaza – interview
Get 10 tickets to see 'hang' - offer