Roy Williams – Talawa Firsts, Q&A
Review
Published:

Friday, June 20, 2014 2:53 AM

| Review by:

Mike Scott-Harding

|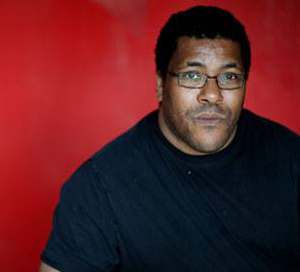 Roy Williams, by participating in a Q&A, as part of Talawa Theatre Company's 'Talawa Firsts' series, you allowed many of your truths to be heard; not least that you read all of your reviews in the hope that they might tell you something about yourself, your writing... or , indeed, about the reviewer. I don't know what you'll make of me then, Mr Williams but, thanks for reading and here goes… 'Mr Williams takes great pride in the fact that he's been a professional playwright for 20 years.
Indeed, he has many awards to confirm his status within the profession, including the George Devine award for 'Lift Off', the 2001 'Evening Standard Award for Most Promising Playwright' for his play Clubland, the 2002 'BAFTA Award for Best Schools Drama' for Offside, and 2004's 'South Bank Show Arts Council Decibel Award'. More recently his play Sucker Punch was nominated for the 'Evening Standard Award for Best New Play' and the 'Olivier Award' for 'Best New Play 2011'. In 2008, he was awarded an OBE.
Chaired with insight and precision by Michael Buffong, the evening offered an opportunity to engage with a man who, although long-established as a successful (black) British writer, is still driven by a mixture of passion, apprehension, and professional pride.
At once self-effacing, forthright, and self-assured, Mr Williams made for a refreshingly honest and open interviewee (rarely have 'f-bombs' sounded so endearing). When asked by Mr Buffong if he considered himself to be a 'black writer', he replied that he would gladly accept this description ('based on the fact that he was both') just as long as the term 'writer' was ever-present.
He began by regaling us with tales of his short acting career, the highlights of which were starring in a CrimeWatch reconstruction, and beating up a copper in The Bill.
At once self-effacing, forthright, and self-assured, Mr Williams made for a refreshingly honest and open interviewee.


Acknowledging that life as a thespian was not for him, he told us about the three-year writing course he undertook at Rose Bruford College . When asked what he had learnt from the course, he offered that it was 'not as well-conceived as he would have liked'; however, he felt that he had needed to immerse himself in academia, or else he might never have persevered as a professional writer. He then informed us of his daily writing regime: up at 6am, one hour for 'Facebook' , write until 1pm, lunch, and then write until either exhaustion, or 3,000 words, were arrived at ("whichever came first"). Insight was given into the writer's structural priorities ('What's the world? Who's in it? How do I tell their story?'), the dangers of too many writing courses ('homogenisation'), and his own relationship with (re)presenting the 'black community' . At this point he made an interesting observation about the potential collision-course between a culture's desire to 'not air ones' dirty laundry in public', against the (solitary) writer's need for veracity.
His solution: if in doubt, always write the truth… if you're not sure what it is, go and speak to someone who does! Ostensibly billed as a Q&A on 'how to survive as a black writer', the audience were more focused on how to improve as writing practitioners; perhaps this was an indication that, for those attending (almost 100% 'black' ), the merging of artistic aspiration with a reminder/assertion that mere survival might be the best possible outcome, was a concept many were not so comfortable (re)exploring. Or maybe it was just a case of - 'so many questions, so little time'?
Attending this Q&A made me re-engage with the idea that the best way for a black, British writer/director/dancer/singer/artist to achieve, not only solvency, but also to become a role-model and cultural inspiration, is through a mixture of talent, discipline, rigorous self-assessment, personal integrity, professional honesty and… of course… a little bit of luck.
All of these are attributes that Mr Roy Williams seems to possess (and embrace) in spades. 'Perhaps this review says more about me than you, Mr Williams, but it was a pleasure to have been in your company and, once again, I thank you for taking the time to read this.
Yours sincerely,
Mike Scott-Harding.
PS; I'm not usually on 'Facebook' quite so early, but please feel free to try…
Info: Talawa Firsts continues until June 27th, 2014. More
Related links
Karla Williams, No God No Girsl – interview, Talawa Firsts