Prison Wings by Darren Raymond – review
Published:

Tuesday, June 3, 2014 4:41 PM

| Review by:

Mike Scott-Harding

|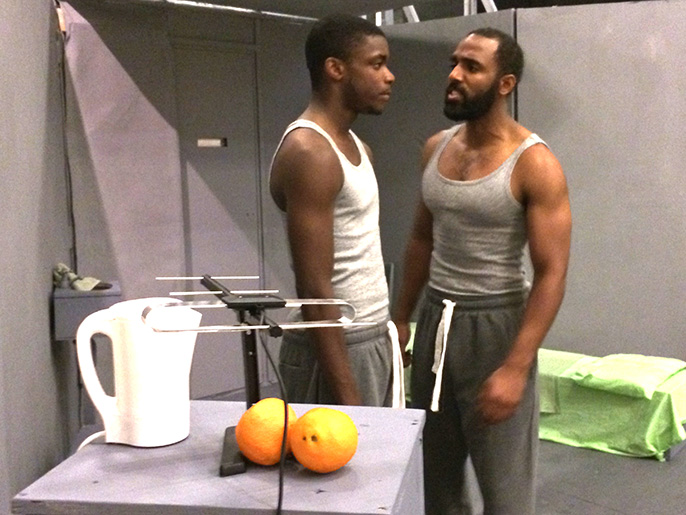 Sometimes, a theatre-production's setting and the atmosphere created around it is as vital to an audience-member's appreciation of the play as the script and performances.
One such instance is Intermission Theatre's 'Prison Wings', playing at St. Saviour's Church, Knightsbridge.
Through its theatre and youth-theatre groups, 'Intermission' seeks to create productions designed to offer 'hope' to those both creating, and bearing witness to them.
Their latest play, 'Prison wings', tells the story of 'Ryder' played by writer Darren Raymond; the character is a young man from London, sentenced to 18 years in prison.
In the first scene, we find out (during an apparently preordained parole interview) that Ryder has spent most of his time in solitary confinement, and is violently opposed to sharing his space with anyone else. Tensions are raised, therefore, when 'Charlie Webber' (played by Eddie Thompson) arrives, and is placed in Ryder's cell.
At this point, the play moves from an occasionally-funny, relatively conventional treatise on prison life (complete with anti-establishment monologues), into something more allegorical.
In short, it turns out that Charlie is an angel sent down by God to free Ryder from prison(!) This switch to an overtly theological narrative is balanced out by some earthy dialogue, and (most importantly) good work from the two main actors.
Ryder is both physically intimidating and verbally eloquent (think 'Ray Winstone's 'Carlin' in 'Scum' meets Tom Hardy's 'Bronson'). Charlie Webber, on the other hand, is a cross between Mister Bean and 'Brian', the 'Confused.com' robot (!) Both Messrs Raymond and Thompson, although giving off very different energies as they bounce off each other, acquit themselves well.
What is not so successful is the tonal shift from prison-drama, through odd-couple friendship, to 'Lazarus'-like redemption. The device used to save/free Ryder, feels both laboured and tacked-on; his character arc feels 'unearned', and the denouement feels forced.
I understand that it is part of Intermission's ethos to retain a positive outlook within their productions. But in theatre, is it not more important to be 'faithful'... than 'faith-full'?! And, surely, 'faith' works both ways; if an audience is asked to suspend disbelief, then the writer must have 'faith' that a mainstream audience, whilst hanging about, will remain discerning.
That having been said - the set is well thought-out and practical, and the sound/ lighting design is clear and unfussy. The rest of the 6-strong cast perform well, especially Paul Forster's parole officer, and Janine Gillion's prison warden.
Finally, the church-setting is a major positive; it is both an evocative, and an apt, venue-type in which to view a piece of contemporary theatre.