No God No Girls – review
Published:

Tuesday, June 24, 2014 11:35 AM

| Review by:

Gillian Fisher

|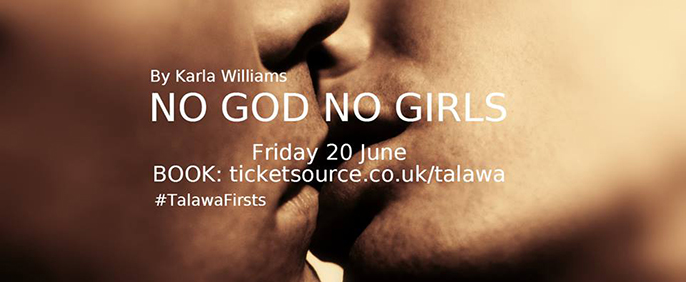 Relationships take many forms and in any affiliation we undertake there will be obstacles to overcome. In Karla Williams' new play No God No Girls we examine the familiar challenges of life's multifarious dynamics. Sibling rivalries, family responsibilities and romantic bickerings are all highly recognisable. Rarely featured in modern British drama, the play also explores relationships with faith. Jack and Elijah have been raised in the Unification Church; their childhoods dictated by the teachings of Revered Moon. As each brother comes to recognise areas on which they clash with the doctrine they begin their own journeys of self-discovery.
The play begins with Jack being thrown out of the family home by his father. From this climactic juncture we follow the two brothers over a span of seven eventful years. Jack played by Rob Ellis is very much a Jack the lad. Cheeky and fun loving, his techniques for chatting up women (strongly focused around baked goods) make him a lovable rogue. Younger brother Elijah is played by Jake Davies. A pensive and congenial young man, dedicated to his studies and his faith. His realisation that he is gay conflicts so strongly with the Unification stance that he is desperate to conform. At the age of 20 he asks to be 'matched' for marriage to a fellow member in Japan. His Skype conversations with Keiko, played by Emiko Ishii are a hilarious example of lost in translation. Ishii plays the role of a religiously devout and excitable young girl well, kicking her feet joyfully when it transpires they both speak German. The inclusion of cyber communication is an insightful nod to modern courtship. Watching Jack's live correspondence with the object of his affection evolve, with an increasing number of 'x's is terribly cogent.
Dialogue driven, the production delves into the formative effects of parental influences and future partnerships. Having been rejected by his father, Jack has adopted a rather nonchalant approach to relationships; not promising anything for fear of disappointing. Despite this, he is frequently disappointing his frankly rather controlling girlfriend Mia (also played by Ishii) and often becomes defensive. The father played by Mark Shaer is quietly dictatorial and has his own filter when it comes to listening. He also goes through his own journey following the loss if his wife. The trajectory of each individual is subtly symbiotic and makes the characters highly accessible. The direction by Rebecca Coley allows an organic flow of tension and mood throughout the proceedings.
Despite the charged content of the play the production is highly comical. Humorous exchanges and awkward situations often leave the audience laughing out loud. In particular when Elijah visits a Unification therapist in an attempt to get 'de-gayed' the farcical nature of the set up was difficult not to guffaw at. Asha Reid play the therapist Felicity with deadpan solemnity. As part of the Talawa Firsts programme, this production was performed in the Talawa studio with limited staging and rehearsal time which will greatly enhance future runs of the play. No God No Girls is a witty, intuitive and provocative piece which raises many questions about the relationships in our own lives.
Related links
Karla Williams – interview, No God No Girls