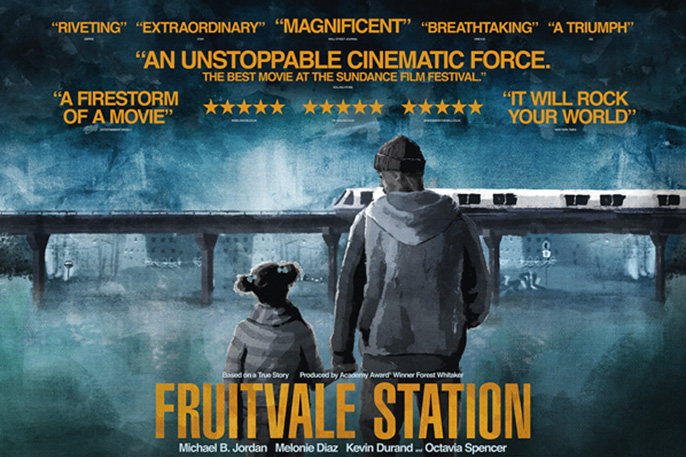 'Oscar Grant III was fatally shot by BART police officer Johannes Mehserle in Oakland, California, United States, in the early hours of New Year's Day, 2009 on the platform of Fruitvale Bart Station'.
This real-life case forms the basis of the film 'Fruitvale Station' which, not only reconstructs the tragic events, but seeks to engage us to an even greater tragedy: the meaningless curtailment of a young life (and our own inurement to its regularity). Many people coming to this production and indeed most films based on real-life events, will, no doubt, have a preconceived view.
This film deals with this common 'based-on-a-true-story' conundrum by showing, in its first scene, real-life phone-camera footage of the event.
Using this device to objectively present the topic-shaped 'elephant in the room' is a masterstroke, in that it allows the film to get on with its true objective: introducing us to Oscar Grant III (as this film is more a matter of life, than death).
We meet Oscar who is brilliantly played by Michael B. Jordan - at the start of his 'last day of travel', as he goes about the business of engaging with his long-term girlfriend, his young daughter, his mother, various family members, and various friends and acquaintances.
We see him striving (vainly) to get his job back, despite having lost it through his own negligence. We see him promise to help his sister with her rent, despite not having the means to keep his own family housed.
Having admitted cheating on his girlfriend 'Sophina', we see him vow to her that he will remain faithful; indeed, despite his fears about the future (and his ability to deal with it), we see him seriously consider marriage.
The scene in which he admits to Sophina that he has consciously disposed of the (illegal) means by which he could alleviate their financial woes is particularly telling.
"I could slap you", she tells him. Instead she hugs him… and they make love. She understands that he is trying to break a cycle, and that the real battle he fights is waged in order to create a more stable life for them all. We see her becoming/remaining his ally. True romance can be so mundane(!)
In the film's only 'flash-back' scene, Oscar is visited in prison by his mother (the wonderful Octavia Spencer). Having missed her birthday, as a result of previous criminality, we see how this motivates him into becoming a better father / son / brother / husband / man.
NOTE: It's interesting that Oscar decides to implement these changes without any noticeable father-figure; he is his own moral compass. Choice and responsibility in action. Yay!
The cynical will argue that the film's poster, as well as regular clips of Oscar bonding with his four-year old daughter Tatiana (Ariana Neal), are emotionally manipulative; an attempt to draw him as a saint. I would argue that these scenes are beautifully performed and handled. Besides which, isn't this how an engaged and present father - especially one with future aspirations - should act with their child?!
The acting is uniformly realistic, and the direction superb. This is a film that is funny, profound, and banal (in the way that true life often is). The cinematography, sound-design, and music are intelligent and subtle, and all are employed in order to show us a 'snap-shot' of a life-in-progress. Nothing is wasted… except Oscar's potential.
Filmed almost as cinema verite, we aren't exposed to the usual 'gang-banger with a heart of gold' cliche; nor are we shown the 'model college student who just happens to be in the line of fire'. Instead we get an honest portrayal of a young man trying to engage with his own insecurities, failings, responsibilities, and innate decency… in short, a perfectly normal (black) man striving to be (and do) better! In this portrait, his unlawful killing does not define him, it stops him defining himself!
Therein lies the tragedy: the curtailment… indeed derailment… of a life.
NOTE: According to a study by MXGM… "(United States) police officers, security guards, or self-appointed vigilantes extra-judicially killed at least 313 African-Americans in 2012"… "This means a black person was killed by a security officer every 28 hours. "
Perhaps some 'redemption' can be achieved if an artistic representation such as this can help us to see with fresh eyes, or to feel with renewed clarity. With this in mind, I suggest you go and see this film!
Info: Fruitvale Station is in cinemas from June 6th, 2014 | watch trailer