Afridiziak review – Circles by Rachel De-lahay
Tricycle Theatre
Published:

Saturday, June 7, 2014 12:26 PM

| Review by:

Lloyd Lewis Hayter

|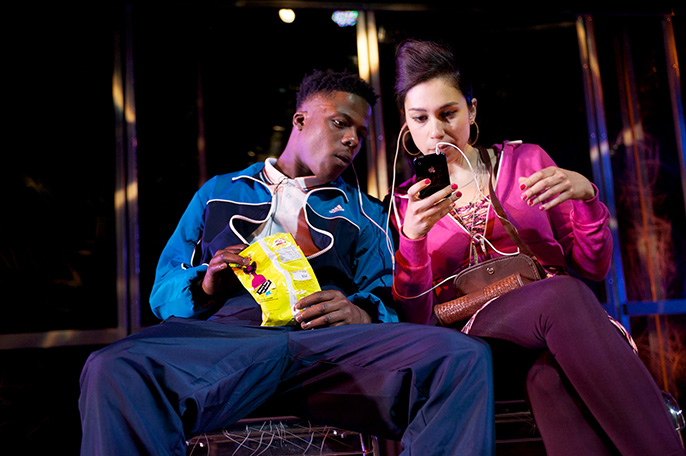 Circles is a fresh look at how women get consumed by and cope with abuse and definitely worth a watch
Going around in circles is a recurring theme for all characters in Rachel De-lahay's new play aptly named Circles. On a bus route that travels in its own circle around Birmingham we meet an initially obnoxious Malachi trying his luck with 15-year-old Demi. As the play goes on we learn why Demi chooses to take the unnecessary two and a half hour looping bus route every night, or at least we think we do until a twist plays out.
The circular lives of three generations of women all living with domestic abuse makes up the core structure of the play. De-lahay has ultimately written a play about domestic abuse, but she's done it without introducing us to any of the abusers, and without presenting the victims as wholly innocent and vulnerable. Constantly struggling to decide if the characters are good or bad, victims or abusers, we find each of them are true to life in their complexity as nothing is proven to be black or white.
Toyin Omari-Kinch hits the nail on the head as good-hearted Malachi caught up in the dead end circles of inner city life. Moments of his true self cut through his bravado from time to time encouraging us to root for him in his pursuit of Demi. Sadly Danusia Samal's finger wagging, head shaking Demi is harder to empathize with as an overload of stereotypical gestures and stances distracts from the character's already loaded motives.
The set, made up of the all too familiar graffiti scratched Perspex of a bus stop inspires a knowing smile as we take our seats and also assists in the play's ability to transfer in to the city of our choice. This is a fresh look at how women get consumed by and cope with abuse and definitely worth a watch, and yet as with any play full of such layered characters and sensitive subjects casting is key and in this production it seems to be just slightly off the mark.
Info: Circles is at the Tricycle Theatre until June 14, 2014 | book tickets
Related links
Rachel De-lahay - interview
Routes by Rachel De-lahay - review