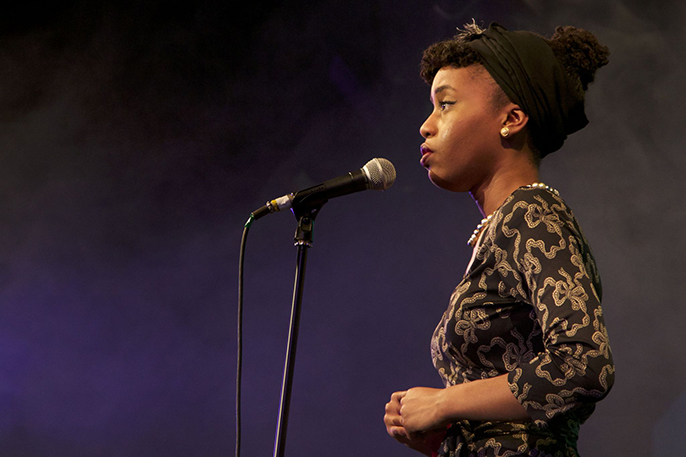 'Cafe Society Swing' starts with a newspaper reporter inquiring as to the whereabouts of club entrepreneur, 'Barney Josephson'. The reporter, planning an interview for a newspaper 'Hatchetjob', is told by a musician that Mr Josephson is no longer present, the club having been closed down. We are then transported to 1938, wherein the reporter becomes our narrator, the 'musician' sits at the piano, and the stage is filled by a 4-piece horn section, a double-bass player, a drummer, a singer/guitarist, and (intermittently) 2 female vocalists.
The reason this show works well is because of the quality of the performances, the scope and variety of the period-music and, most of all, the emotional weight of a story well told.


Contemporary songs from the era are then performed, and interwoven with expository dialogue from our hard-boiled, narrator (Gareth Snook).
This set-up is ostensibly to tell the story of a New York club, Café Society'. Its owner, Josephson, wanted the venue (a basement room situated at 1 Sheridan Square, Greenwich Village) to be, not only a hot-bed of live-music, but to represent a break from the norm for nightclubs in the city at that time; he wished for the club to be non-segregated (both front-of-house and behind the scenes), and free from the influence of the mob.
To my mind, narrated concerts usually do not work; oftentimes, the dialogue feels bolted-on, lessening the emotional potency of the music, compromising the strengths of both art-forms, and neutering the whole artistic enterprise. The reason this show works as well as it does, in my opinion, is because of the quality of the performances, the scope and variety of the period-music and, most of all, the emotional weight of a story well told.
Alongside this tale of a Jewish-American club-owner running a 1940's New York entertainment venue, is a wider narrative; one of social upheaval, political cynicism, racial segregation, and ethical expedience.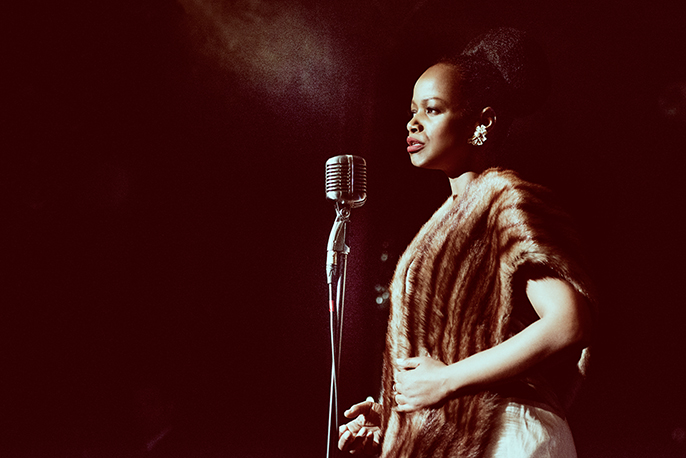 We find out, through Mr Snook's venal reporter, that Josephson had been caught up in the 'Redbashing' zeitgeist of the late '40s, in what was to become known as the 'McCarthy witch-hunts'. This was a shameful time in American history when, in order to dismantle the social gains created in the previous (Roosevelt) era, a climate of mass-hysteria was created. This period's casual replacement of one political / philosophical bȇte noire ('fascism') for another ('socialism'), under the guise of 'protecting freedom and democracy', not only shaped an ethos that destroyed many lives, careers, families, and friendships, but also developed a blue-print of fear and paranoia that has been carried forward to the present-day.
The show's well-constructed narrative sections not only gave us a sense of the time (even the name-dropping was evocative) but, more importantly, they offered a constant reminder of the stakes. The sense of foreboding was extended after the interval when the talented Mister Snook switched character, effortlessly embodying a Cafe Society waiter in order to take us further into the club's mythology. As he tells us at one point, whist reading the (anti-socialist) writing on the wall: "Start worrying… details to follow."(!)
John Hammond, as Josephson's music adviser and talent scout, secured many of the great and the good in 1940's jazz; Billie Holliday, Lena Horne, Count Basie, Duke Ellington, Sister Rosetta Tharpe were but a few of the top performers of the day to grace the Cafe Society stage. Bearing this in mind, the music had to be on-point; and, by and large, it was. Alex Webb's unfussy piano playing, and clean arrangements created a firm foundation, while the 4-piece rhythm section acquitted themselves well (especially Miles Danso's swinging double- bass). The monstrous horn section (Denys Baptiste, Jason Yarde, Sue Richardson, and Winston Rollins) were especially good throughout the evening.
This brings us onto the three vocalists: Ciyo Brown's bass vocal sometimes lacked cut when having to compete with the full band, but his dignified presence shone through, and his guitar-work (both acoustic and electric) was clean and precise. His stripped-down rendition of 'One Meatball' was a particular stand-out. Cherise Adams-Burnett at times seemed slightly regimented in both vocal delivery and movement; her rendering of old jazz classics seeming more learned than lived-in. However, her warm vocal tone and musicality shone through, and her version of 'Lord Randall', a traditional English song, revealed her fragile likability and emphasised her potential. She's one to watch for the future. Vimala Rowe, on the other hand, came very much fully-formed! She nailed each and every song she delivered, taking us on a journey from pulpit to after-hours club with a mixture of sass, class and… well, you get the picture(!) She was always watchable and, whilst remaining a team-player, she seemed to own the stage with her confidence, charisma, emotional engagement, and classy jazz phrasings. Her highlights were numerous, but special mention must go to her versions of Billie Holliday's 'What a little moonlight can do', Lucienne Boyer's 'Parlez moi d'amour', and Ella Fitzgerald's 'What is this thing called love'.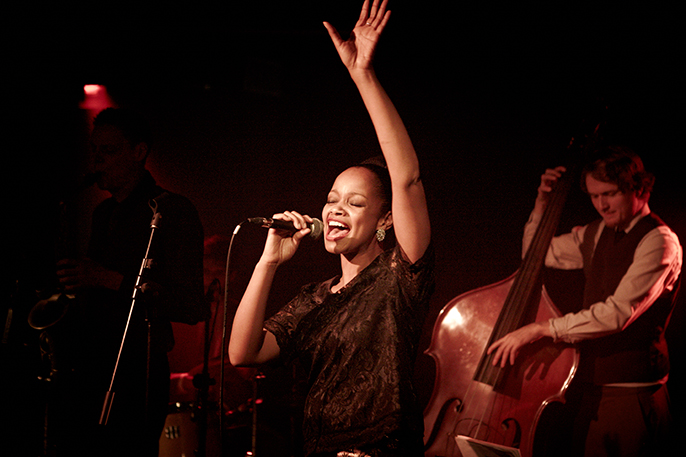 Other musical stand-outs included 'Closing Time' (an affecting duet between Mr Snook and Ms. Adams-Burnett), 'Red Scare' (a three-part harmony arrangement with lead vocal by Mr Webb), and a short, funny reading of the great Zero Mostel's 'Investigator's song' (again by Mr Snook). The undeniable highlight of the evening, however, was Ms. Rowe's extraordinarily gut-wrenching evocation of Billie Holliday's seminal classic, 'Strange Fruit'.
Apparently, back in the day, Josephson set down certain club-rules to safeguard the integrity of this song: the waiters would stop serving just before its performance, and the room would be in darkness, except for a spotlight on the singer's face; most importantly, it would always close Miss Holiday's set.
The show attempted to adhere to this simple template and, as Ms Rowe delivered the song's spoken introduction, the mood was set perfectly for the start of one the most important songs of its time when, all of a sudden… a mobile phone started ringing! I kid you not! ('Of all the songs, in all the clubs, in all the world… etc'.).
Just as Barney Josephson never allowed an encore once Miss Holliday had performed her harrowing masterpiece, this show followed suit; the cast promptly took their deserved bows and vacated the stage. All that was left was for the audience to leave, pondering this most fitting of tributes to a tumultuous time and place.
Political pressure ultimately forced Cafe Society to close in 1948. As economic constraints continue to heap more pressure on the arts, and on society's regard for their importance, let us raise a glass (at the very least) to those who have fought to make our musical and artistic legacy so rich.