A Human Being Died that Night - review
Hampstead Theatre (downstairs)
Published:

Monday, June 2, 2014 3:50 PM

| Review by:

Gillian Fisher

|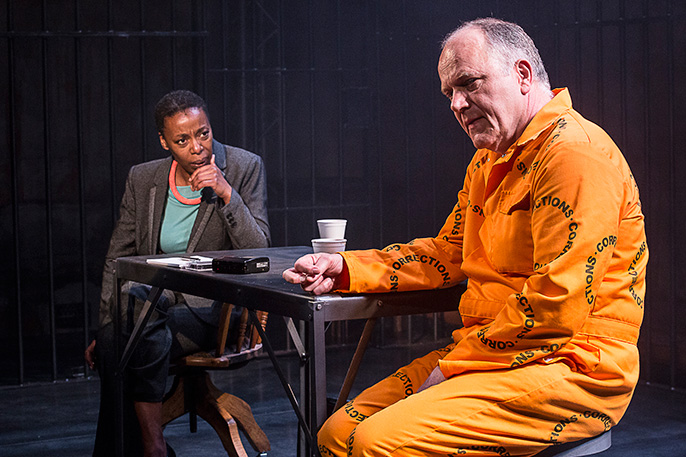 Shifting time to give direct addresses to the audience Dumezweni is utterly compelling in her role.
Nicholas Wright's intense two hander is a powerful insight into a country recovering from apartheid. Set in South Africa in 1997, just three years after half a century of segregation was revoked, one man sits alone in a prison cell. Eugene de Kock, dishonourably nicknamed 'Prime Evil' was the commander of counter insurgency unit Vlakplaas and became known as the face of apartheid. He is visited by a smart bespectacled woman, Pumla Gobodo-Madikezela; a psychologist and member of the Truth and Reconciliation Commission. Starring Noma Dumezweni and Matthew Marsh, the play is based upon Professor Gobodo-Madiezela's own book documenting her interviews with De Kock. Wright's dramatization is a poignant and claustrophobic exploration of how these two people found themselves on either side of the prison bars.
Purely dialogical, the two actors resonate with emotion. Lighting by Tim Mitchell and sound by Christopher Shutt are effected with subtlety, occasionally emphasising or highlighting the words being spoken. Presented as a lecture, the professor greets the audience from a podium to give her speech 'The Human Capacity for Evil and the Possibility of Forgiveness.' Once she has explained her premise, we follow her (physically) into the cell where the interviews took place. Walking around the perimeter of a cage in which De Kock sits alone, echoes of "Fava beans and a nice chianti" are difficult to ignore and are even referred to in the play. Noma Dumezweni plays the professor as a discerning professional, but as the interviews continue we see her detachment wain and she becomes emotionally involved. Shifting time to give direct addresses to the audience Dumezweni is utterly compelling in her role.
Mostly, this play is two people both seeking the answers to forgiving and being forgiven.


Once the interviews begin it is obvious that De Kock has his own agenda, to challenge the portrayal of himself as a monster. Failing to downplay this, both parties are nervous. The polarity of the two; a smart black woman in a suit and a slouched white man in lurid orange overalls with shackled ankles is striking. Even the rhotic South African accent of the professor and the clipped vowels of Afrikaans De Kock set them apart. Their conversations are littered with tales of atrocity as the prisoner recounts his past life. A life spent preserving white South Africa by interrogating, torturing and killing the black people who resisted apartheid. The convoluted web of clandestine violence and extortion, fully backed by the government was inconceivable. As De Kock describes the standard practice of 'tubing' and beating suspects with flaming sticks the professor attempts to remain objective. The professor's own interest in De Kock was sparked when he asked to meet three widows of policemen killed in the Motherwell bombing. The killer's desire for forgiveness is central to the professor's own work and watching De Kock explain his meeting with these women it was impossible to remain unmoved.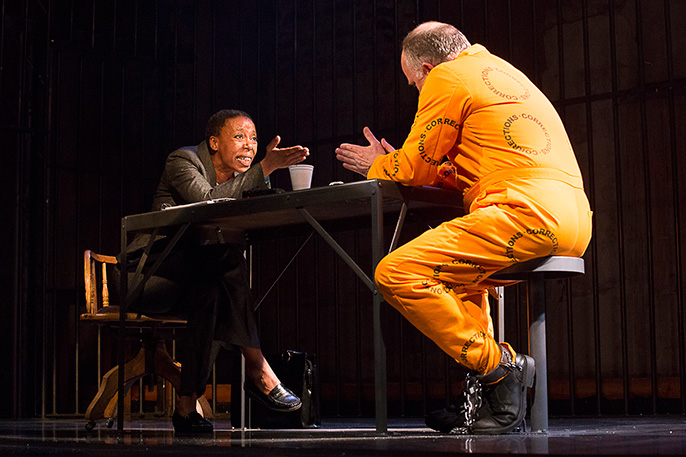 Matthew Marsh has perfected his role as the complex and thoroughly honest De Kock. He is not humble and he is assured of his own indoctrination. He describes being shown films of black men raping nuns in the Congo and instructions of how to eviscerate men with a bayonet. It is difficult to empathise. But this boy from a chicken farm finding himself battling communism differs little from any number of stories in any number of countries. The direction by Jonathan Munby has ensured a thoroughly natural dialogue between the two characters which is at once, awkward, shocking and heartfelt. This is the reality of pre-democratic South Africa shown within the context of two people's lives. The play also serves as a reminder of how far the country has come and how far there is still to go. Mostly, this play is two people both seeking the answers to forgiving and being forgiven.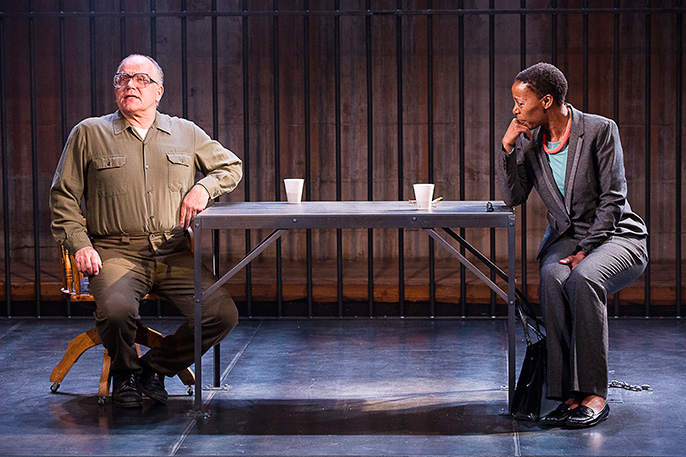 Info: A Human Being Died That Night is at Hampstead Theatre until June 21, 2014 | Book tickets
Related links