Review - Once the Musical, Phoenix Theatre
Published:

Thursday, June 13, 2013 10:04 AM

| Review by:

Gillian Fisher

|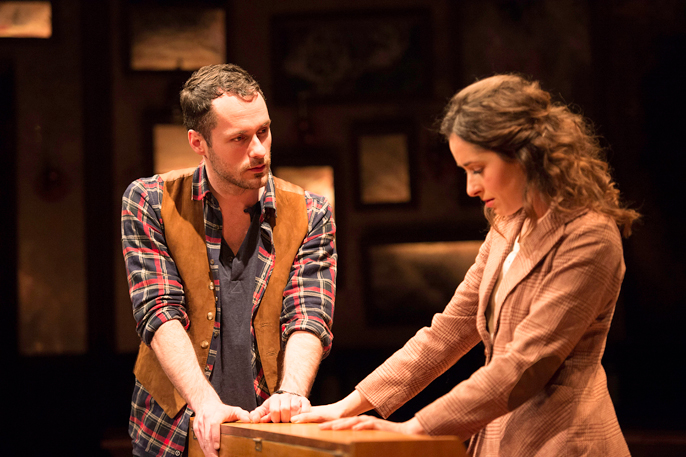 A bar that never shuts, two hearts that can't be mended and a hoover that doesn't suck… Enda Walsh's touching musical is a rollicking romp of a romance set in Dublin's fair city. The melancholy melody of our busking anti-hero strikes a resonant chord with an impetuous young girl from the Czech Republic. This diligent foreigner pushes our anti-hero to pursue his dreams, reigniting his previous passion for life and love. But his is not the only hearth that gets a good stoking. Over five days we watch this anonymous pair's symbiotic reawakening flourish and harmonise like an exquisite duet. As new dreams take the place of old ones will our unlikely pair make beautiful music together or will they be singing solo?
A live ceilidh band of banjos, fiddles, accordions and guitars narrate the action in the verdant Gaelic tradition. The set is a wood panelled and shabby pub designed by Bob Crowley and provides a domestic backdrop a magical romance. Coventry born Declan Bennett plays the undiscovered musical genius role with a natural and retiring quality. The determined enthusiasm from our female lead sets off Bennet's shyness beautifully. Pianist Zrinka Cvitešić plays the girl with wonderful upbeat obstinacy. With hands thrust deep into her pockets and assured nods of her head she portrays a resolute but quietly detached woman whose own dreams have been lost somewhere along the way. Although a native Croatian, Cvitešić's Czech accent and temperament are well executed. Being intimately involved with a man from Brno, I found her frequent exclamation 'I'm always serious; I'm Czech!' highly appropriate.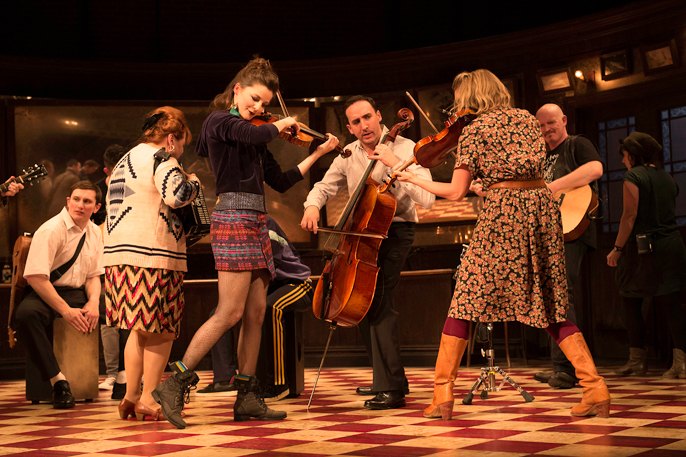 The musical numbers are written by Commitments lyricist Glen Hansard and Czech musician Markéta Irglová which makes for a diverse soundtrack. Upbeat folk ballads form the core of the music along with a few brooding Caoineadhs which are performed splendidly by the ever present band. Bennett's voice has a soft rolling quality combined with a deeper resonance which is highly effective during his solo guitar laments. Zrinka Cvitešić's singing is more breathy with a classical tone; highly emotive during her solos as she channels all of her sorrow into her piano keys. The group sessions are fantastic with such a range of instruments and voices reaching the most magnificent crescendos. Performed live, Irglová's award winning song 'Falling Slowly' is spectacularly moving, to the point I heard someone behind me singing along and sniffling.
Once the Musical is far from your typical stage show. For one it's the first time I've ever gone on stage to get the drinks in. There are so many amazing characters, but I had a soft spot for Billy the tender hearted metal-head played by Aidan Kelly and impassioned sage Baruska played by Valda Aviks. The plot is subtle and completely defies the standard musical formula. More fiddle-dee-dee than razzle-dazzle, but what a fiddle-dee-dee it is! A stirring and unique production such as this only comes along Once.