Bish Bash Bosh Productions present The Tin Violin, Pleasance Theatre, London
Published:

Saturday, June 23, 2012 3:40

| Review by:

Uchenna Izundu

|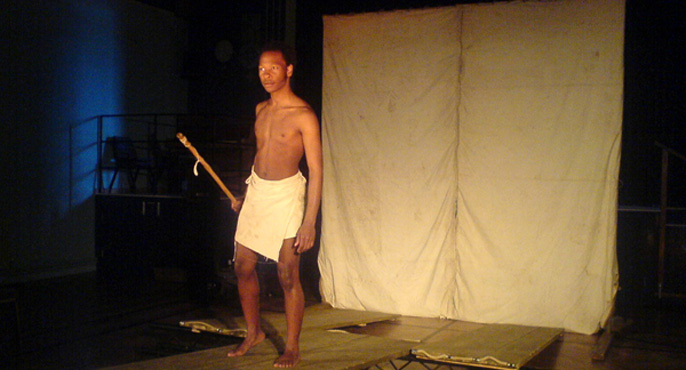 Playwright Alan Kent has unearthed the fascinating but true story of Joseph Emidy who, during the early 19th century, was snatched by slavers from his home in Guinea, West Africa to Brazil where his new owner, Eduarado Souto De Moura, gifted him a violin to help lure the ladies. From there Emidy escaped to Portugal and used his talent to capture the attention of Queen Maria and was kidnapped, yet again, to end up in Cornwall where he became an accomplished musician, composer, and respected teacher of the violin.

Although this is a rich narrative, Dean Nolan's production falters and is jarring with different theatrical styles where Joseph (played earnestly by Oraine Johnson) speaks primarily to the audience about his journey, interfused with the device of the chorus, to add power, insight, and calm to his narration of events. However, that doesn't quite work – maybe because there were only three actors performing this function in the large space of Pleasance Theatre, or perhaps the story just doesn't need it.

The style then changes dramatically to farce with a hint of Carry On shenanigans and double entendres when Molly Weaver plays potty Queen Maria who lives in a pink palace and is desperate for hanky-panky with Sir Edward Pellew (Steve Jacobs), a distinguished British Naval Commander who kidnaps Joseph after hearing him perform. However, instead of Queen Maria and Pellew's encounter being funny, it feels awkward. Weaver is effervescent as she transitions from one role to the next as an opera singer and finally Joseph's lover-turned-wife, Jane. Her conversation with Methodist preacher father, Zachary Hutchins (Steve Jacobs), when he airs her concerns about having children with Joseph is charmingly innocent and naïve; she believes that love can conquer all. Jacobs is solid in his multiple roles – giving each one a unique mannerism and accent.

In a script, which captures the formality and heavy jousting of the era, Kent glosses over the prejudices of Jane and Joseph's relationship where despite being a freed slave, he was, essentially the only black in the village. Indeed, throughout Emidy's journey there is a lack of dramatic tension because the characters hardly bounce off each other - leaving the episodes clean cut and the pace meandering. Emidy seems a very pleasant chap with no dark side.

Using primarily wooden planks and cloth backdrop that is lit to convey different moods, BishBashBosh Productions has a wonderful set that metamorphoses over the course of the award winning play from the beaches of Guinea to a boat, harbor, and opera house.

There are short bursts of pretty violin music, which underline the scenes where Joseph is performing at concerts, but considering that this is a story of how music buys a slave his freedom, I would have thought a musical score would have far more prominence.
---
Related links