Midsummer Night's dream, Regent's Park Open Air Theatre
Published:

Sunday, June 17, 2012 12:36

| Review by:

Gillian Fisher

|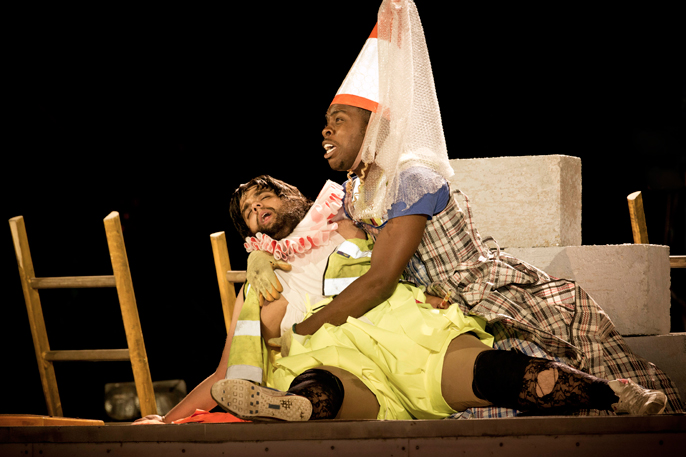 The course of true love never did run smooth. This is especially applicable when the lovers in question reside in a brawling trailer park governed by a scar faced Duke with obvious mafia links. Young Hermia loves Lysander but her father has espoused her to Demetrius against her will. Whilst Demetrius is determined to keep his appointment with Hermia at the altar, he is followed everywhere by infatuated Helena who wishes only to be his obedient spaniel. Beyond the mortal plane in the realm of the fairies, love's pathways are no less hazardous. King of the Fairies Oberon is overwhelmed by jealousy and is bent on seeing his queen Titania humiliated at any cost. With an amateur play to be put on for an upcoming wedding and tricks-loving Puck wreaking his own brand of magical havoc, how will this night end and will love finally conquer all?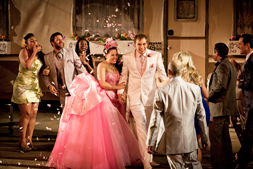 Timothy Sheader's adaptation of Shakespeare's comedy has taken Athens into the gritty trailer park culture of modern day to astounding effect. The modern setting gives the classic work a touch of reality TV sensationalism as we watch the entangled romances and bitter rivalries descend into chaos. The eloquence of the Bard's prose is only accentuated by the trashiness of the setting and tracksuit clad countenance of the character, the words spilling forth in heartfelt estuary tones. Jon Bausor's set at first glance appears simple, but is a playground of transformation, with caravans magically ascending to reveal mystical pools or opening like doll's houses to transport us to enchanted fairy meadows.

The cast is uniformly superb with each actor giving their absolute all to their role. The love struck Athenians embody youthful defiance and restlessness, with Hermia played by Hayley Gallivan sneaking out of her caravan sunroof to embrace her forbidden love Lysander. Helena played by Rebecca Oldfield is ditzy and relentless as she cheerfully skips along in her wedged heels following the unrequited object of her desire Demetrius. The mechanicals are a motley crew, skillfully coming together to form a rabble of grubby labourers. A mass of tattoos and inappropriate T-shirts, they pile out of vans scratching themselves and clutching cans of lager. George Bukhari plays the boastful weaver Bottom with a strong Yorkshire accent and incredible energy. Throwing himself around on the stage he shows impeccable timing and comedy skills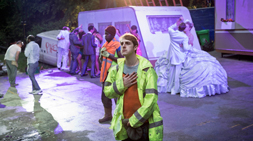 Portrayals of the fay are stunning. Titania is wonderfully empyreal and appears to reflect the surrounding elements, sometimes mermaid like and aquatic, sometimes seeming to be composed of mushrooms and flowers, which are beautifully set off by her floor length dreadlocks. Played by Tamsin Carroll she is so overwhelmed by divinity she frequently faints into the arms of her adoring fairy attendants who move as one being to accentuate her every movement. Oberon played by Christopher Colquhoun opposes his queen's organic quality by having a brooding industrial feel to him. Dressed like a gothic dandy in a leather jacket and a crown of black feathers he bellows impassionedly and is all rage and intensity. The infamous Puck has seen so many reincarnations making him a difficult character to bring new life to, but this production achieves this by having the troublemaker sweeping around the stage on a BMX. Oliver Johnstone plays the part with a collected grin and rude boy swagger, which neatly combine with his celestial traits.

An absolute joy to behold, demonstrating the power of Shakespeare's words to transcend time and environment and continue to captivate new audiences. Hugely creative and tremendously performed this production would doubtless have gained the Bard's deepest approval.
---
Related Links
A Midsummer Night's Dream is at Regent's Park Open Air theatre until September 5, 2012
Interview with Rolan Bell, Ragtime the Musical
Afridiziak Theatre News review: Ragtime the Musical