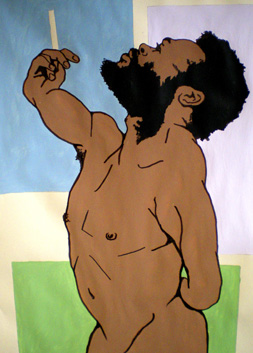 Have you ever seen a female impersonator? I haven't, maybe that might have prepared me for the performance by Tonny A. (Wo)Men in Me is an examination of the male body and how men can express feminine emotions through dance.

I nearly missed the show as the Blue Elephant Theatre is hidden so well in the heart of Camberwell, but the intimate venue was the last place I expected to find a show so unique and both visually stimulating and thought-provoking. The three dance pieces truly explored the sexuality of androgyny and psychological identity of men.

Tonny's choreography was often in the style of burlesque and his movements were sensual and mesmerising. I was surprised to find the show contained full nudity, especially as Tonny played the coy burlesque dancer so well. The music in the show was amazing and took the audience on a rollercoaster of female anthems and idols, from Madonna to Christina Aguilera. Tonny moved to the beat of them all like a professional 'video vixen', swaying and swinging his hips, pouting his lips and even booty shaking.

At first the performance was a little unnerving. This wasn't helped by the small audience who didn't know whether to laugh at Tonny sashaying across the stage or whoop with encouragement as his seductively stripped out of his shirt dress and waist belt. Midway through the second act I began to really enjoy the performance as it was completely classy and tasteful. There was no gyrating on audience members, just a good ole fashioned male burlesque show!

This show isn't for everyone, but if you can appreciate a great dance show with an open mind then (Wo)Men in Me will give you a once in a lifetime experience.
---
Related Links
(Wo)Men in Me was at the Blue Elephant Theatre from 7-11 June, 2011