Voices in the Alleyway
Published:

Monday, June 13, 2011 15:55

| Review by:

Monique Needham

|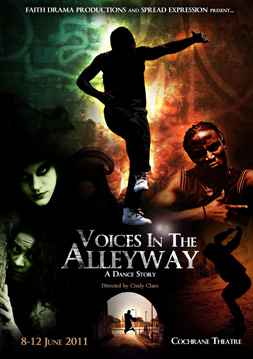 Do you love hip hop? Love dance? Love basketball? Well even if only one of these three is applicable to you Voices in the Alleyway is a show you will enjoy. The opening scene consists of classic hip hop jams with the cast breaking out in old school dance moves. This sets the tone for an upbeat high energy performance and as you continue watching you are taken through a journey of three individual moving stories.

Expression of emotion with very few words is how this dance show can be described. In life every single person has a story, a past that has an impact on their future. Stories can be told in a variety of ways and director Cindy Claes has choreographed this beautiful piece which each of the performers owned. Claes' chose not to use much dialogue and instead got her cast to speak to the audience though the use of fluid movements with their body.

Sannchia Gaston who plays TJ, an aspiring basketball player who has 'gotta do it, gotta train' was brilliant. She owned every move she made on that stage and conveyed her character's fear and allowed the audience to feel her pain with her controlled yet free use of her body. Does Gaston play basketball offstage? The way she moved with that ball seemed very convincing.

Every time Kendra J Horsburgh, who played the part of The Apparition, stepped on stage she stood out. Her words were also minimal but her character's desperateness and distress is able to bring a tear to your eye. Not only does she communicate her character's story though her beautifully crafted movements but through her face, her tears, her pain is projected into the audience.

There were times where it was easy to get lost with where the story was going as moments were not always clear but Christopher Lewis, who played Badda, brought humour through his dance and Tulimelila Shityuwete, who played Beyanda, captivated the audience with her contemporary, ballet dance fused with hip hop and kept the show nothing but entertaining.

Definitely check this play out. You will leave with a smile.
---
Related links