The Wiz, New Alexandra Theatre, Birmingham
Published:

Wednesday, June 15, 2011 13:51

| Review by:

Joan Jackson

|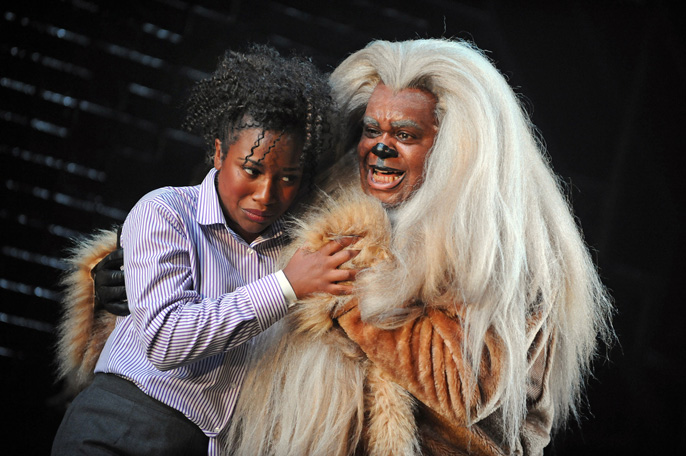 The Wiz set in Birmingham is a modern day version of the classic, The Wizard of Oz. The play's beginning is very dramatic but unfortunately it fails to live up to this early promise. Treyc Cohen who plays Dorothy is possibly too old for the part, together with it being her professional debut, may explain why she fails to connect with the audience and exhibit any real emotions and consequently I was not swept up with any feelings of euphoria and anticipation as she began her adventures on her journey to the Emerald City.

The other main characters, the Scarecrow, the Tinman and the Lion are all played exceptionally well by Wayne Robinson, Horace Oliver and Clive Rowe respectively and Addaperle (the Good Witch of the North) played by Melanie La Barrie is the star of the show, all supported by an ensemble cast of volunteer singers and dancers from the local community whose performances were polished and professional.

The play has some very ironic and funny moments e.g. Dorothy's desire to return to Birmingham and Addaperle's inability to disappear! In addition, the singing is good overall and in particular, Allyson Ava-Brown's rendition of 'Believe in Yourself' was absolutely breath taking.

Overall the play failed to set the stage alight and whilst it was pleasant enough to watch and appeared to be enjoyed by the diverse audience, for me, it lacked energy and 'magic'.
---
Related links
The Wiz is at the New Alexandra Theatre, Birmingham from 10-18 June 2011
The Wiz is at the West Yorkshire Playhouse from 24 June to 16 July 2011
Afridiziak Theatre News interview with Treyc Cohen, The Wiz